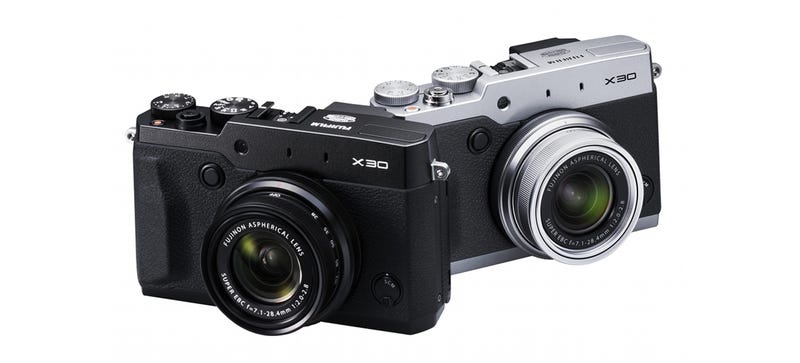 Three years ago, two Fujifilm digital compacts, the X100 and X10, helped spark a new trend in cameras by melding classic, long-retired design with new technology. Amongst the innovations on the fancy X100: A combination LCD and optical viewfinder, which gave you both a taste of the old glass-and-film rangefinder world, and the conveniences of digital. With the upgraded x20, in 2013, the smaller one snuck a peak of digital in your eye hole with a thin digital overlay. So it's about time we're seeing the full electronic shebang.
In recent years, electronic viewfinders have gotten so good that their optical predecessors are unnecessary in all but very specialized cases, and Fujifilm cameras have largely been evolving away from optical at the top of the line. But the inevitable transition has never been more evident than with the X30, the latest iteration of the smaller, more affordable of the two originals. Today that handsome camera graduates to a 2.6 million-dot OLED EVF, matching the resolution found on top cameras like the Sony A7, which costs thousands of dollars more.
Additionally, the X30's 920,000-dot 3-inch tilting LCD is larger and sports twice the resolution of the X20's fixed screen. That's sharp enough that even snobby shooters might use the viewfinder less and less anyway.
Fujifilm has kept the key guts from the 2013 X20 unchanged. It has a 12-megapixel 2/3-inch X-TRANS CMOS 2 sensor, with some of the fastest autofocus in the world, plus the same 28-112mm (35mm equivalent, 4x magnification) f/2.0-2.8 lens. It will remain a handy, fun camera for street photography.