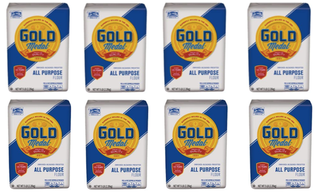 Check your cabinets, people. General Mills just issued a recall for 10 million pounds of its flour, in connection with a potential E. coli outbreak.

There are as of yet no confirmed cases of E. coli connected to the flour at all. But, starting December of last year and continuing till this month, the CDC began an attempt to track down the source of an E. coli outbreak that had sickened 38 people across 20 states. At least half of all the people who got sick reported having baked something with flour prior to getting sick.
That alone isn't enough to confirm that flour was the source. But it was enough for General Mills to issue a voluntary recall out of what they described as "an abundance of caution." In addition, the company is also reminding people not to eat raw cookie dough or cake batter.
But why, after over five months of investigations, is it so hard to track even one case (of the more than three dozen) to its source? It's the same reason the culprit behind Chipotle's E. coli outbreak was never revealed.