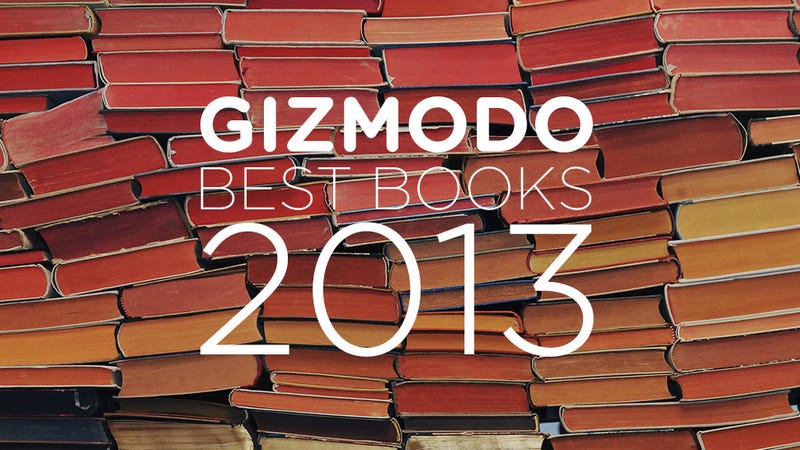 2013 was another good year for books, those dry old lumps of paper and ink, so we've rounded up the year's best in tech, science, design, architecture, urbanism, food, and more. We've also tapped our friends at Paleofuture and Edible Geography for their own lists, which appear below—and we hope to hear from all of you, as well.
Anything we missed? Anything coming out in 2014 that you're already excited about? Jump into the comments and let us know.
Gizmodo's Best Books of 2013
The books are listed in alphabetical order by title. Included in brackets at the end of each review are the initials of the person who chose that book: Gizmodo editors Alissa Walker [AW], Brian Barrett [BB], Geoff Manaugh [GM], and Kelsey Campbell-Dollaghan [KCD].
Atelier Bow Wow: A Primer edited by Cornelia Escher, Megumi Komura, Laurent Stalder, and Meruro Washida
Now more than 20 years old, Tokyo architecture studio Atelier Bow Wow is still producing incredible work—like "pet architecture," its name for building wedged into leftover empty space. But there haven't been terribly many English-language books written about their work—and most of those focus on their (admittedly wonderful) drawings. This 250-page exhibit catalog gives us a bird's eye view of the studio's incredible diverse range of work, including photographs alongside Bow Wow's lovely illustrations. [KCD]
To try to say a Thomas Pynchon book is about any one thing—even a topic as broad as "technology"—is useless. But Bleeding Edge, set immediately after the 90s dot com bubble, cares very much about tech, and how we relate to it. It's a tough read, a long read, a read that's equally at home talking internet and footwear. But most of all, and among other things, it's a dense look at where exactly our relationship with tech—both personal and professional—went wrong, and how we might ever set it right. [BB]
With its striking bronze facade, unprecedented corporate patronage, and transformative urban plaza, the Seagram Building in Midtown Manhattan has rightfully become one of the most storied skyscrapers in the world. Building Seagram tells the tale of a single building that epitomized big changes in architecture, engineering, and public space happening in cities across the country during the latter part of the 20th century. As the daughter of Seagram chairman Samuel Bronfman, Lambert brings a personal perspective to the story and her own place in history—she commissioned architect Mies van der Rohe for the project when she was only 27 years old. [AW]
A lot has been written about David Eggers' exploration of Silicon Valley intrigue and excess, though the most vocal critics seem to focus more on the author than the work. Ignore them. The Circle frames our social media landscape as a near-future dystopia, a world in which everything is connected and nothing is private. Beyond the social critique, it's also just good read, a nimble plot guided by a more than capable craftsman. Yes, it can be heavy-handed at times. Then again, so can Google+. [BB]
Clog's young editors bring together dozens of contributors to look at the role of sci-fi in architectural production. From movies and books to actual, honest-to-god science, each piece susses out how pop culture's wildest fantasies have wiggled their way into the real world—often by way of radical skyscrapers, unexpected material science, and urban planning. [KCD]
Eric Schlosser's sobering and excellent look at the often terrifying challenge of keeping nuclear weapons secure—transporting them, storing them, maintaining them—was making waves even before it was published with his discovery of the near-nuking of North Carolina by a U.S. Air Force plane in 1961. The book is deeply researched, appropriately alarmed by the difficulty of keeping nuclear arms under the safe "command and control" of our armed forces, and highly recommended reading. [GM]
From the outside, it seems as though in a perfect world Apple and Google could have been friends. After reading this aggressively reported account from Fred Vogelstein, though, you'll understand why the animosity between the two was unavoidable—and just how deep it runs. Forget the size of the market the two are competing for; the real story lies in the personalities powering the too monoliths, and the lengths they've gone to outdo—and undo—one another. It's the foundation of a story that plays out in nearly ever consumer electronics product you own, and a surprisingly quick read given how much acrimony it covers. [BB]
Poster by Tyler Nordgren; the full series of posters is fantastic.
It's hard to know where to begin in recommending Paul Bogard's The End of Night, for the sheer wealth of anecdotal and factual information contained within. Whether it's the man whose job it is to carefully tune the lights of Paris so as not to out-shine the stars, the so-called "Bortle scale" for measuring zones of true darkness, or the fact that the influence of artificial light on late-shift workers is officially classified as a carcinogen, Bogard's exploration of what electrical illumination is doing to humans—biologically, culturally, and neurologically—is fascinating from cover to cover. [GM]
In stark contrast to Twitter's quarrelsome quartet, Amazon sprang from the mind of a single visionary. But, as Brad Stone's deep dive into your favorite online shopping warehouse shows, it wasn't without its own drama. Some of that even came post-publication, as Jeff Bezos's wife took to Amazon to defend him. Even without the histrionics, you'll come away from The Everything Store with an even deeper appreciation for one of the most innovative companies in the world. If you thought two-day shipping was impressive, you'll be amazed by the man who made it all possible. [BB]
Before Anonymous, before Weev, before "hacking" became universally accepted as the cost of having the internet, there were the phone phreaks. While Exploding the Phone isn't the first close look at the men and women who made America's burgeoning telephone network their own personal playground, it's certainly the most thorough. It's also one of the most comprehensive looks not just at the hacking that plagued the AT&T monopoly's early days, but also how our telephonic infrastructure came to be in the first place. As a bit of tech history—with themes that resonate today—it can't be beat. [BB, GM]
One of the most enjoyable books of the year by far, Falling Upwards is a history of ballooning told as the story of a human achievement nearly on par with the Apollo program. Hot air balloons, in Richard Holmes's telling, were technically extraordinary, culturally significant, and all but universally mind-blowing for those who experienced them. From the surreal story of Sophie Blanchard to early military surveillance flights in Europe and during the U.S. Civil War, the book zips from story to story—runaway balloons over Lake Erie, lost balloons over the Atlantic Ocean, balloons above the Arctic Circle—yet always retains a kind of giddy, humanist awe for its own subject matter. Holmes, a biographer of poets Percy Bysshe Shelley and Samuel Taylor Coleridge, successfully recasts balloon flight as something poetic and otherworldly, part riveting adventure tourism, part sublime human mythology. [GM]