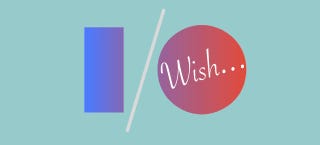 Google's biggest day of the year is here: Google I/O! And along with fancy developer seminars with enticing names like "open-source technologies from the Hadoop ecosystem as part of your Cloud toolkit," we're also going to get some Fun Announcements. Here's what we're expecting, what we're hoping for, and what'll have to wait.
What's certain
Thanks to a profile of Sundar Pichai in Bloomberg Businessweek, we now know a few things that will definitely be mentioned at Google I/O. Here are your absolute certainties:
The next named version of Android: Kit Kat 4.4 only showed up in October of last year, so it seems just a bit early to expect a whole new version of Android, but it's coming. Pichai told Businessweek the next big version will definitely appear at I/O. What form it will take exactly, is anyone's guess. It could be more beta than previous name releases given the switch-up of the release schedule. But as with all named releases, it's likely to be a bit of an overhaul.
There have been some leaks about a new set of design guidelines for Android called "Quantum Paper," and it's likely the framework for Androids next big "L" release. In addition to a visual overhaul, Quantum Paper seems angled to help/force developers to use assets that work well across platforms, making future versions of Android play nice on screens of all kinds, whether they're phone, tablet, or TV.
Beyond that we're definitely due for some more minor but still awesome improvements. So far we've heard about things like Google Nearby, which could help stalk or be stalked by your friends, and plans to bring Moto X-esque always-listening functionality to all Android phones, somehow. Hopefully we'll see both of those, along with some other surprises.