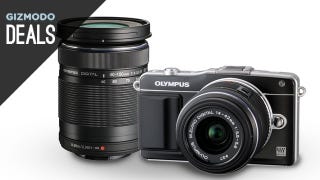 Update: Price is back up to $600. Hope you got one!
Whether you want to step up from your smartphone, or downsize from a budget DSLR, a Micro 4/3 camera offers great image quality in an appealing form factor. If that sounds appealing to you (and it should!), Amazon today has the capable Olympus E-PM2 with a pair of kit lenses for just $349 today to get you started.
This camera is the little brother of my more-expensive Olympus E-PL5, offering the same image quality that Gizmodo loved, with only a mode dial, removable front grip, and (mostly useless) reticulating screen excised. The E-PM2 normally goes for around $450-$500 with a single 14-42mm kit lens, so seeing it for $100 less with a 40-150mm telephoto tossed in is a very nice surprise.