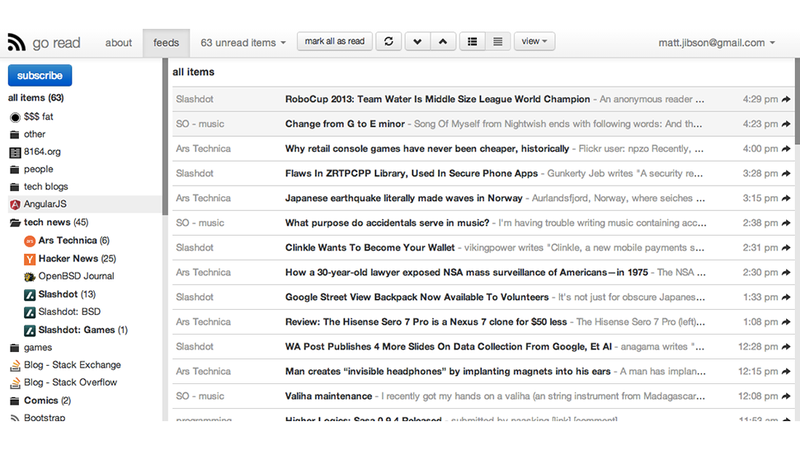 When Google Reader announced it was shutting down a few months ago, most of us stamped our feet, panicked, and went running into the arms of another RSS reader. But Matt Jibson is different. Unlike most of us, he can crunch code. So he built a Google Reader of his very own own.
Jibson, 30, studied Electrical Engineering at Colorado State. By day, he works Stack Exchange, a New York start-up that's trying to figure out how to solve the difficult problem of peer-to-peer question and answer. But by night he's long been an active member of GitHub, the open source community of coders.
After Google announced that it was murderizing Reader, Jibson realized he wasn't really satisfied with the alternatives. Most of all, though he was just fascinated by the challenge: What if you could make a reader from scratch that's exactly how he wanted it? And so he went to it, from scratch, plugging away a few hours at a time after work 4 to 5 nights a week.
And he got the technical challenge he was looking for. As he tersely put it in the blog post describing his project, "Feed readers are difficult." It turns out that all of that gobbledygook that supposedly outlines a feed's information isn't really standardized. He started a Tumblr collecting some 60 different methods for expressing a timestamp—all of which his reader would need to parse.
And last week, the effort paid off. Last Thursday, just weeks before Google was set to pull the plug, Jibson flipped on the lights to Go Read, his open-source response to Google abandonment. He posted the project on Hacker News and his code on GitHub. Since then, 8000 people have signed up. He expects another big influx when the people outside tech communities wake up Monday morning and realize their feeds have no home. (If its running a little slow right now, you'll have to forgive the growing pains.)
But more than the thrill of the hunt alone, Jibson is big Google Reader fan, and by his own admission, the reader is supposed to be as close to a Google Reader clone as he could realistically accomplish within a few months. "It was good at presenting content in a usable, quick, simple way," he says. "I wanted the same experience," he says "Yes, I thought that the interface of reader was done right"
As with most of the other Google Reader alternatives out there, step one is importing your feeds. If you've got loads of them like I do, it takes just a few minutes to import. And then, just as you'd expect, there they all are. You won't see any frills, but you will notice how snappy feeds load. That is, when it's not suffering the early bugginess of a product rushed out the door. If you're trying to use it this morning, you've probably noticed it's slow, the result of overtaxed resources that Jibson is paying for out of pocket.