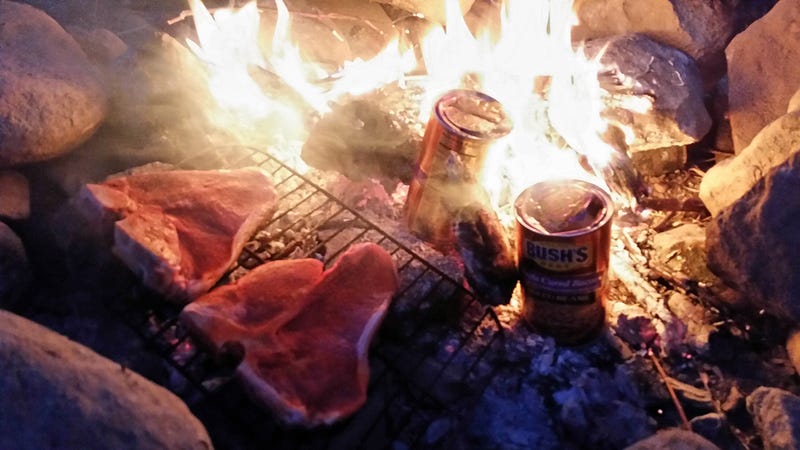 If there's any better feeling than that brought by throwing a steak on a campfire, we don't want to know what it is. Here's how to get your meat right every time.
What You'll Need:
Steaks (the best quality you can buy).
Salt and Pepper.
A grill rack (optional).
Long, sturdy tongs.
Heavy leather gloves, think Ropers or even welder's gloves to keep from burning your hands.
A fire that's breaking down into a 2" deep bed of coals, preferably hardwoods, but softwoods are fine so long as you're cooking on just the charcoals.
The Meat: I grew up in a butcher shop in Alberta, Canada and, as far as I'm concerned, there is no better place in the world to get beef. Argue with me all you want, but come taste it someday, and you'll understand. My local butcher sells hormone-free, antibiotic-free, grass-raised, grain-finished beef. All those factors contribute to a rich flavor, and excellent marbling (due to the grain finish). It costs a touch more than grocery store meat, but supporting a local, more sustainable, higher-quality product makes me feel better about eating beef.
I get full bone-in rib steaks cut to 1.5", and they're the right serving size for 2 regular (hungry) human beings. Your beef should be aged to at least 28 days, and should be out of refrigeration for at least a half hour before cooking starts. Beef is not chicken, and you are putting it over a god-knows-how-hot fire, it'll be fine.
Season heavily with salt and pepper (beef likes this, and in turn you'll like your beef better) and let it hang out while you build some fire.
The Fire: Wes already showed us how to build a fire. Build it up until you can have about a two-inch deep coal bed large enough to cook your food on (about the size of that grill rack). I say two inches because you need to be able to throw heat hard and fast enough to create a good crust on the steak, instead of just turning it grey.