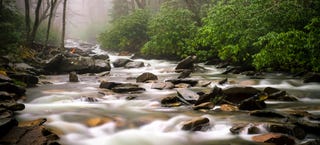 Staying hydrated is essential while camping, hiking or just spending time outside. Here's how to find the best water sources, then ensure their water is safe to drink.
You can survive for weeks without food, but only a day or two without water. It also helps regulate body temperature, making it the second most important factor in the list of survival priorities — shelter, water, fire, food — and enhances your physical performance while warding off both hypo and hyperthermia.
In less extreme scenarios (i.e 99.9999% of the time), water is a non-compressible substance that, at 8.34lbs-per-gallon, is heavy and you'll need to be drinking at least a gallon of it a day when you're outside. You can't physically carry enough water to see you through a multi-day trip, so you'll need to find it along the way.