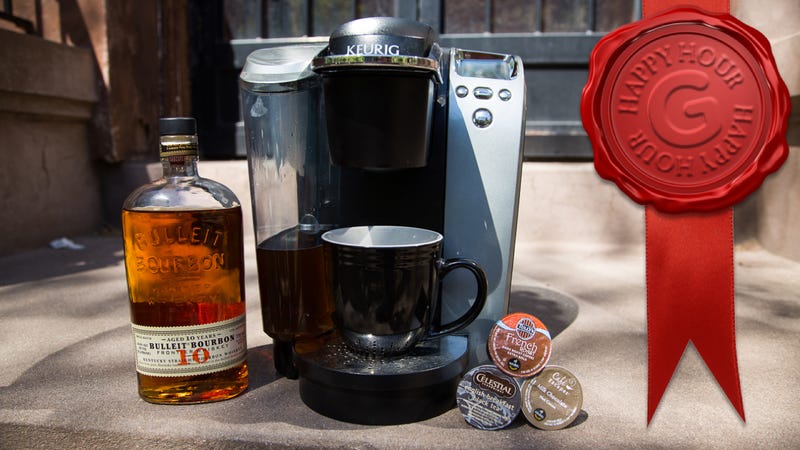 If you've ever worked in an office you probably know the ubiquitous K-Cup machine, made by Keurig. It quickly and painlessly dispenses single-servings of the hot beverage of your choice. Even, it turns out, if that beverage is 100-proof.
We just happened to have one of these discarded machines lying around, and decided to see what would happen if we used it to make hot, boozy deliciousness instead of boring ol' coffee. Game on.
It's Friday afternoon, you've made it through the long week, and it's time for Happy Hour, Gizmodo's weekly booze column. A cocktail shaker full of innovation, science, and alcohol. It's The Jetsons on a bender.
WARNINGS
Like you didn't know this was coming.
1. K-Cup machines are meant to be filled with water and water only. Using anything else will probably ruin it.
3. You should not put alcohol in a K-Cup machine.
4. If you do put alcohol in a K-Cup machine (which is stupid), make sure you do it in a well-ventilated area, ideally outside, as alcohol vapors are highly combustible.
5. Maybe have a fire extinguisher nearby, too.
6. If you must pour water on the K-Cup machine to extinguish flames, for God's sake unplug it from the wall first. Water + Electricity = Bad.
Given all of the above warnings, you may be wondering why we bothered attempting this at all. Because like all great innovators, we were both curious and stupid.
The Hypothesis
While the idea of pouring straight booze into the K-Cup machine and seeing what happened was appealing, we decided this was a bad idea. This machine makes full cups of beverages, and that doesn't allow for much of a balanced flavor profile. If we wanted to make an alcoholic coffee shot, we would have cannibalized a Nespresso machine or something.
The idea here is to make something of mixed-drink strength. By substituting alcohol for some of the water, we would be limiting the amount of dilution. And, as we learned in our piece on bitters, alcohol is a very good flavor extractor. We hoped this might get us a bolder-flavored drink.