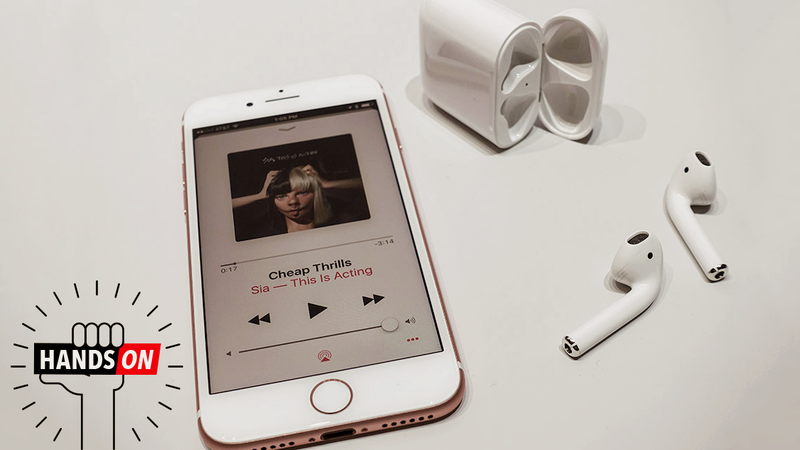 Apple finally went through with it. It killed the headphone jack on the iPhone 7. In its place, you can use headphones that connect to the Lightning port. But Apple thinks the future is wireless headphones. And AirPods are its vision for that future.
AirPods are "truly wireless" earbuds in the way that I've been fantasizing about them for years. It's a beautiful concept that nobody has been able to get right. I've tried many to various degrees of disappointment. So imagine my surprise on discovering after a brief demo that AirPods aren't complete garbage.
Visually, AirPods look like what would happen if you snapped a pair of EarPods off from their cable. If I'm honest, the design looks a little bit first-generation. It lacks polish that I'm used to seeing from Apple's design team. I imagine we'll see a more refined look evolve in the coming years.
The AirPods have a special W1 wireless chip embedded inside. This chip (along with Apple's software) helps them pair quickly with your phone, bypassing the pairing annoyances that plague Bluetooth setup these days. Simply open up the carrying case (which doubles as the headphone charger) and the Pods immediately pair with your phone.

To the best of what I could ascertain, this is all still happening over Bluetooth. An Apple demo person told me that there was some "special sauce" that makes the Bluetooth pair process better, but the underlying technology isn't anything new. This is cause for concern because though Bluetooth fidelity and reliability have improved in recent years, it's still not the flawless technology most people desire.