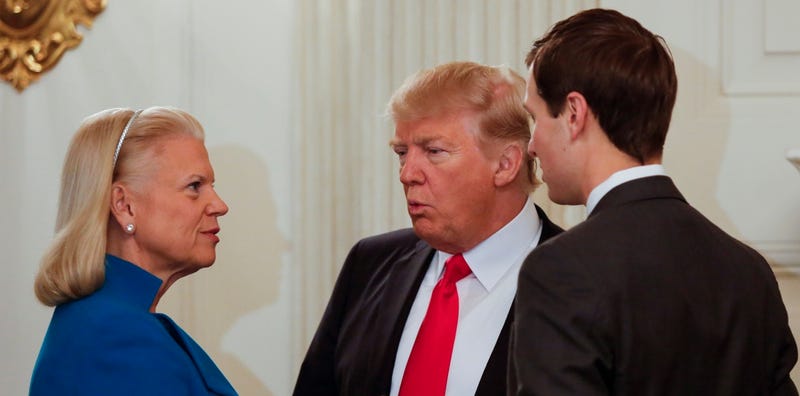 IBM CEO Ginni Rometty has taken some major heat from her employees for continuing to advise President Trump, and that seems likely to continue in the near future. Rometty just sent out a new internal memo defending her collaboration with the Trump regime, and like every IBM statement to come before it, the whole thing is pretty weak.
TechCrunch obtained the memo, and noted that IBM confirmed it as authentic. However, the company declined to comment to Gizmodo, even about its authenticity. (It might have something to do with the fact that we called their last statement "pathetic.")
In the note, Rometty maintains that by engaging the Trump regime, IBM is in a great position to influence policy. But absolutely nothing about the history of how Trump deals with businesses lends credence to this idea.
"I discussed with the President and the Secretary of Homeland Security ways that advanced technology could address national security imperatives while also permitting lawful immigration and travel," Rometty wrote. "I explained that this is not an either/or choice. Our points were heard, and we will continue to engage to find solutions that align with our values."
It's become painfully clear that every single person on Trump's business advisory council is merely a prop to show just how much support there is for his neo-fascist policies. Uber CEO Travis Kalanick quit the advisory board after threats of boycotts, but Elon Musk is in the exact same boat as Rometty. Which is to say that they're both promising that they can change things from the inside. But the most vocal complaints from inside IBM contend that the company shouldn't be working with the Trump regime because 1) it's damaging democracy at home and abroad through discriminatory policies on immigration, and 2) nobody in Trump's inner circle is listening to outsiders.