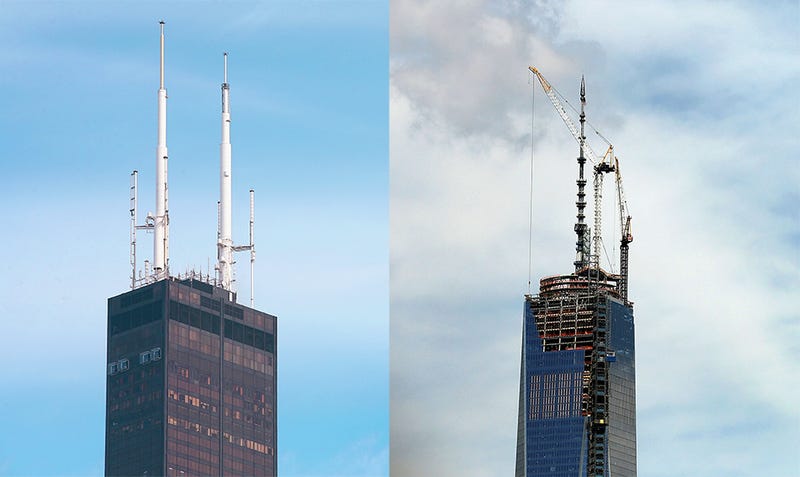 At joint press conferences in New York and Chicago today, the Council on Tall Buildings and Urban Habitat—a Chicago-based nonprofit—announced its decision to crown the One World Trade Center as the tallest building in the United States, beating out the Windy City's Willis Tower by mere feet of spire.
Why did it take 25 officials and months of discussion to figure out what the country's tallest building is? It all comes down to the spire. Here's the core of the disagreement: The top floor of the Willis Tower—née the Sears Tower—sits at 1,345 feet. The top floor of One World Trade, meanwhile, sits at 1,268 feet, making Willis Tower the clear winner. But if you take spire height into account, it's One World Trade—by 63 feet.
The CTBUH's ruling is based on the details of what purpose the spire actually serves. They've long held that a spire must be "integral" to the building's design for it to count towards the total height—this definition excludes radio antennas, for example. "Even though the cladding was taken off the spire, you can still see that is is an architectural element," said one CTBUH official about the WTC spire, according to the Chicago Tribune. "It is not just a plain steel mast from which to hang antenna or satellite dishes."
The Chicago vs. New York debate cuts to the core of a new phenomenon in supertall construction called "vanity spire." Massive spires have increased by more than 400 percent since 1970, when the Willis Tower topped out in Chicago. What's the purpose of these huge steel columns? Not much, actually—hence the moniker. Yet architects and developers have raced to slap extra spire height onto buildings that could potentially clinch a title for height.