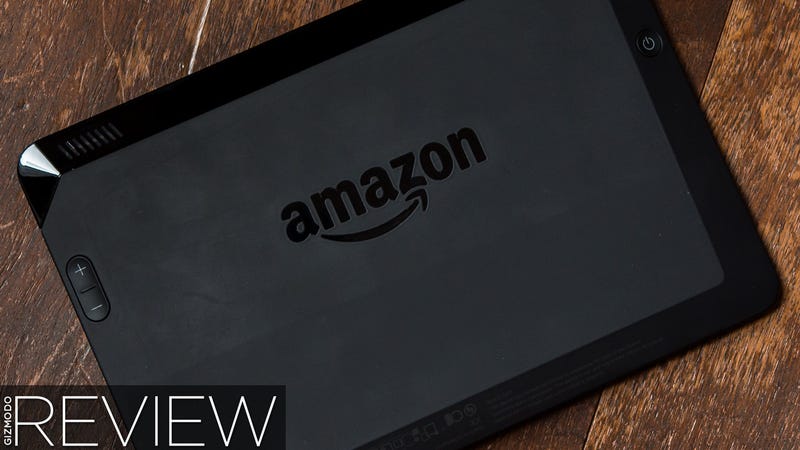 The Kindle Fire HDX is a big step forward compared to its forebears. It's got a sleek redesign, blazing fast guts, and a few new tricks. Most of all, though, it's the best small tablet you can buy.
What Is It?
A $230 7-inch tablet that's wired directly to Amazon. The third iteration in the Kindle Fire line, complete with some seriously powerful guts, a wonderful new screen, and an all new build. It's very true to the original Kindle Fire please-use-this-to-buy-stuff-on-Amazon-k-thanks vision, but in the most awesome way yet.
Who Is It For?
Folks who want to dine on movies and books, and who are looped into the Amazon world. Prime members. Your kids, your parents. People who want a fast tablet with a pretty screen and great speakers for a good price. In other words, anyone who wants a tablet in the first place.
Design
An angular beauty. Where the original Kindle Fire was basically a rectangle, and the Kindle Fire HD was a subtly curved slab, the HDX is the best of both. The HDX has a sturdy, molded magnesium body, covered in soft-touch plastic that gives a good grip but will be instantly marred by your finger grease forever.
The back edges of the HDX are angled back in a sort or trapezoidal way, which is not only visually striking, but makes ergonomic sense; your fingers rest flush against the tapering as they reach further towards the back center.
The HDX is a bit more trim than its predecessor. It's less bulky around the edges, thanks to a slightly reduced bezel, but you'll still be hard-pressed to actually put it in your pocket. At 10.9 ounces, the HDX is a lot lighter than the 13.9-ounce Kindle Fire HD, and just a hair less heavy than the 10.7-ounce iPad Mini. The Nexus 7 still wins the portability battle though, weighing in at 10.2 ounces and being slim enough to fit in a pocket. But the HDX is a close second.
The buttons are better than on the HDX than they were on the Kindle Fire HD in that they don't require like 10 seconds of hunting to find, but they're still a little awkward. The concave dips are best for fingertips and the worst for finger-sides, so the buttons are only optimal if you hold the tablet by pinching it on the bezels. Who does that? Also, when the tablet is right-side up (landscape, front-facing camera on the top), the volume buttons are on the back right side. Doesn't seem like a big deal until you're fist-first into a bag of chips and an explosion is just a little too loud. A minor gripe, but this is a trick the Nexus 7 gets right. Lefties, you got lucky this time.