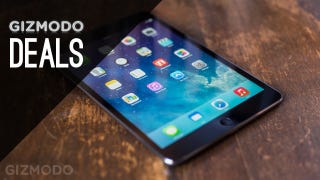 In case you missed it over the weekend, we've got great deals on both the iPad Mini Retina and the Kindle Paperwhite. Best Buy is the proprietor of both discounts, knocking $50 off all iPad Mini with Retina Display models, and 20 bucks off the Paperwhite.
These are the Commerce Team's choices for best tablet and best e-reader, so if you're looking for either, don't hesitate.
---
Featuring 5.1 channel surround sound, 4K pass through, and fantastic reviews, the Yamaha RX-V375 receiver is an absolute steal today at $200.
Yamaha RX-V375 Receiver | $200
---
If you have any big purchases on the horizon, check to see if you get them at OfficeMax. If so, this can save you $75.
---
The Sony Alpha A7 line is a miracle of camera design, and while there aren't any good deals yet on the cameras themselves, Amazon will give you $200 off select lenses, and/or $450 off a flash unit when you buy an A7 or A7R at full price. Check out the promo page for complete details. [Amazon]