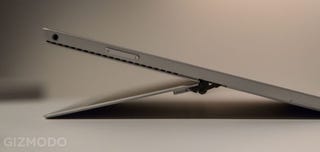 Microsoft's Surface Pro 3 is many things. It's thinner, it's faster; it's all of the superlatives that come when you out a New and Improved version of anything tech. It, along with the absence of a Surface Mini, is also a white flag. Microsoft has finally accepted that Surface can't take on the iPad. But it might just be able to take the MacBook Air.
No More Mini
The rumor mill before today's Surface event pointed squarely at a smaller Surface tablet, positioned directly against Apple's iPad Mini. That would have made sense, were Microsoft truly committed to tilting at the iPad's windmills. They've got a small tablet? We've got a small tablet—with a small keyboard. If you're going to fight a hopeless war, might as well attack on all fronts.
We didn't get a Surface Mini, though. Instead we got what might better be described as a Surface Mega. Its 12-inch screen places it squarely in the laptop world, instead of the sort-of-fat-tablet dimensions of previous Surfaces. Its keyboard is bigger, its touchpad is better. It costs about a grand. This isn't an iPad you can toss a keyboard onto. This is a MacBook Air you can strip the keyboard from. And that makes all the difference.
Update: Bloomberg reports that Microsoft did, in fact, have a Surface Mini ready to go, but decided to kill it in advance of today's presentation because it "wasn't different enough from rivals and probably wouldn't be a hit." Which is to say, they surrendered that space.
By ditching the Surface Mini, and instead pitting the Surface Pro 3 more squarely against the MacBook Air, Microsoft puts itself in a position to score plenty of small victories. It's lighter! It's thinner! You can write on it with a pen-like stylus! It's also effective expectation management. When you pick up the 12-inch Surface Pro 3 in tablet mode, you don't think it feels like a giant tablet. You think, hey, for a laptop this thing's surprisingly small and light.