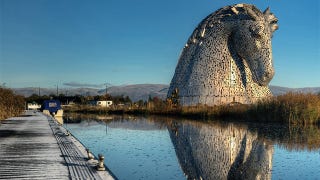 Cities tearing down urban freeways? Otherworldly pictures of our earth? And the tallest building in U.S. of A? Those subjects and more is what we're feasting our eyes on in this round of the most beautiful items of the week.
---
The ferocious teeth of the Earth dragon—the sand seas of the Namibia desert as captured by South Korea's Kompsat-2 satellite.
---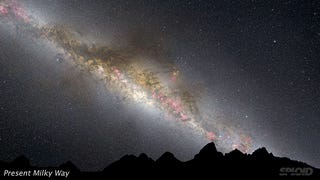 Using data from an all-sky image of M33—a galaxy similar to ours—scientists at the Hubble mission have reconstructed the look of the Milky Way 11 billion years ago.
---
This amazing photo by Brian Smith shows one of the two gigantic 98.2-foot (30 meters) high horse heads that have just been completed in Scotland. They call them The Kelpies, and one day Hobbits and Elves will pass by them en route to drop some ring somewhere.
---
You probably want to visit the Manta Resort, a new getaway in Zanzibar—because, at the Manta Resort, you can actually get away from the getaway and stay a few hundred feet offshore in a floating hotel room. And then you can getaway again in the underwater bedroom built for watching fish.
---
In 19th and early 20th century America, fledging banks depended on conveying stability and trust to their customers. That usually meant architecture—and the construction of pint-sized Greek and Roman monuments in towns all over the country.
---
For the past two years, Dallas has beenlocked in a debate over a new class of buildings that have lovingly become known as architectural death rays. In Dallas's case, it's a shard of light reflected off a hastily-built condo tower that has killed plants and ruined art at the nearby Nasher Sculpture Center.