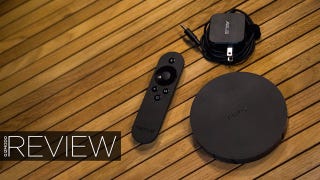 Android TV is exciting. It's beautiful. The idea makes sense. And you should probably steer clear till Google gets its shit together. Until it does, the $100 Nexus Player just isn't a good buy.
What is it?
The $100 Nexus Player is the first set-top-box to run Android TV, a new fork of the Android operating system designed for your living room's big screen. It runs Android apps, plays Android games, and streams your Netflix and Hulu too. Plus, it doubles as a Chromecast, so you can sling things to your TV (or even share your screen) from a laptop, tablet, or phone.
The Asus-built box is about the size and shape of a hockey puck, and houses a quad-core 1.8GHz Intel Atom processor to shoulder the load. But the Nexus Player's problems have nothing to do with horsepower.
Who's it for?
People who would normally buy a Roku or Chromecast for their streaming media fix, but now want apps and games too. People who are considering Amazon's $100 Fire TV, which also does apps, games, and streaming—but without Google's seal of approval, or access to its wide world of downloadables.