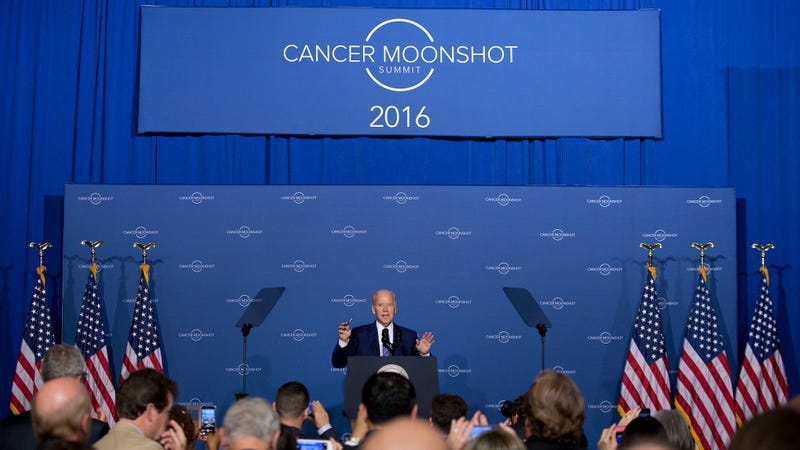 A blue-ribbon panel commissioned by the Obama administration has released a report describing 10 transformative research strategies designed to increase the speed at which cancer research is conducted—but it's not clear if US Congress will commit the necessary funds.
The 28-member Blue Ribbon panel presented its report to the National Cancer Advisory Board earlier today. To come up with its recommendations, the committee organized several working groups involving some 150 experts, who focused on such topics as pediatric cancer, improved data sharing, and clinical trials.
In total, the panel made 10 recommendations which it believes represents the "most compelling" opportunities available to speed progress against the disease; the ultimate goal of the Cancer Moonshot initiative is to make "a decade's worth of research progress in cancer prevention, diagnosis, and treatment in just five years," and to "bring the most promising science and clinical developments to cancer patients in the near term."
The 10 recommendations are as follows (a full description of each item can be found here, along with accompanying summary videos):
Establish a network for direct patient involvement

Create a clinical trials network devoted exclusively to immunotherapy

Develop ways to overcome cancer's resistance to therapy

Build a national cancer data ecosystem

Intensify research on the major drivers of childhood cancers

Minimize cancer treatment's debilitating side effects

Expand use of proven cancer prevention and early detection strategies

Mine past patient data to predict future patient outcomes

Develop a 3D cancer atlas

Develop new cancer technologies

It's a diversified strategy, one that recognizes the need to merge science, technology, advocacy, social science, and big data.
Vice President Joseph Biden, who lost a son to brain cancer more than a year ago, is leading this campaign, pledging, "I plan to do two things: increase resources—both private and public—to fight cancer, and break down silos and bring all the cancer fighters together—to work together, share information, and end cancer as we know it."