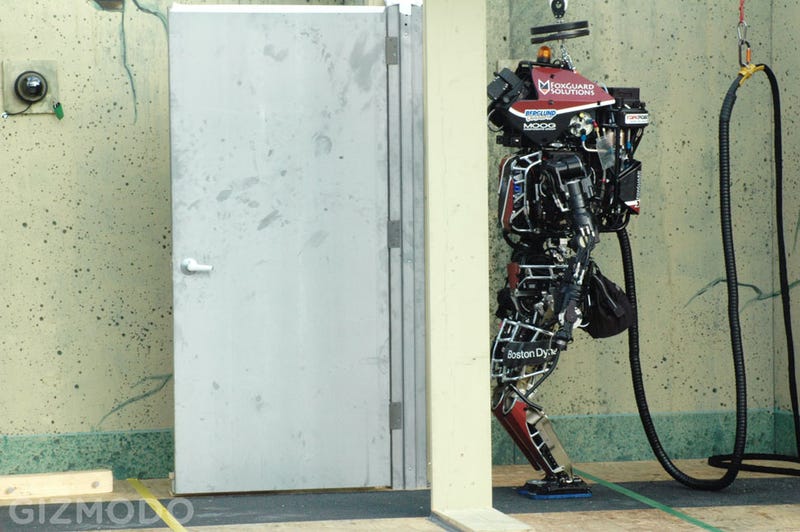 The DARPA Robotics Challenge, or DRC, kicked off today at the Homestead-Miami Speedway about 30 miles south of Miami. A total of sixteen teams from around the world are here to challenge each other today and tomorrow in timed trials, and to compete for funding from DARPA, the Pentagon's mad science arm. A seventeenth team, from China, hit travel snags and hasn't made it here yet.
The Robotics Challenge represents the first time the bots have gathered to compete in physical challenges. They cut their teeth on a Virtual Robotics Challenge earlier this year in computer simulations, which led to DARPA down-selecting from over a hundred teams to just seventeen.
DARPA's goal with the competition is to develop robots capable of semi-autonomous operation in disaster zones. The program manager in charge of the competition, Gill Pratt, developed the program in response to the Fukushima nuclear power plant meltdown in Japan in 2011.
"One of the things that happened was that human beings," said Pratt in a press conference last night, speaking of Fukushima, "were sent in to manually open some valves to vent the reactors because hydrogen gas was building up." The area was too radioactive, however, and the workers faced certain death unless they turned back. "Had they been able to open those vents, we believe," Pratt explained, "then the explosions that blew up three of the reactor buildings would not have occurred."
Pratt emphasized the non-lethal nature of the bots themselves. "This is a non-military defense mission," he said.
Robots from teams TROOPER, KAIST, and Intelligent Pioneer
The tasks the robots are being called on to perform are basic for us humans, but extremely challenging for robots, especially since they will have to perform with minimal human supervision.
The bots have to perform eight tasks in separate areas of the speedway. They have to open doors; remove rubble; cut through a wall with a power tool; turn a valve; connect a fire hose; climb a ladder; walk on uneven terrain; and, most challenging of all, drive a vehicle.