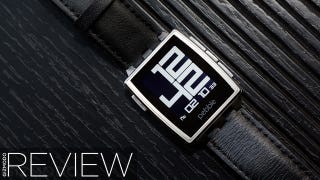 Smartwatches are awesome! Smartwatches look kinda dumb a lot of the time! They don't have to though, and the Pebble Steel is proof. The improved look isn't quite enough to make it the perfect smartwatch, but it goes a long, long way.
What Is It?
It's pretty much the same Pebble smartwatch that took Kickstarter by storm roughly two years ago, now clad in a suit of stainless steel instead of chintzy plastic. So it's the same LED backlit, 144x168 e-paper display, same four button interface, same 5-7 day battery life, and same relatively simple skill set you saw in the original Pebble. But now it's pretty. Like "wear it with a suit" pretty. At least I think so; I haven't worn a suit in a while.
Why Does It Matter?
Everyone and his brother is putting out a smartwatch, trying to put out the smartwatch, but no one has been able to make something you'd actually want to own yet. Smartwatches fall in a weird gutter; generally classier than the Livestrongishness of your traditional fitness band and with more functionality, but nerdier than, well, pretty much anything else you can put on your wrist.
But the Pebble Steel manages to be your most wearable smartwatch option. Not only is Pebble a proven (and popular) player in the nascent smartwatch game, but now it's also the prettiest by far. Pebble beat Apple to making a gadget that is actually jewelry.
Design
Pretty much the only new thing about the Pebble Steel is its design, and man that design is great. The Pebble Steel may not necessarily be your style, but it has style. Respectable style. Style that would almost make it worth wearing even if it didn't also do smarwatchy stuff.
The actual watch part of the Pebble is a blocky, angular beauty. A bit chunky, but in a purposeful and retro sort of way. Its form is convincingly deliberate, not just "whatever shape you have to make it to fit the stuff inside." The buttons look and feel solid. The black strip around the side helps accent the sheer shiny silveriness of the whole thing.
Then there are the bands. Based on the Steel name you'd expect something metal, and yes, that's what you get. A real metal band. Like one you will probably have to take to a jeweler to get fitted. This is a Real Watch. But it's also assertive in a way that may be a turn-off if you're not into mannish, borderline gaudy silver. It also comes in a black version, though, which looks a bit more toned down.
The Pebble Steel also comes with a leather band out of the box. I went to swap it out for the metal immediately, but in the end I came back around to the softer style. But whichever you choose, the Pebble Steel is the slickest smartwatch out there at the moment.
Using It
Other than how it looks on your wrist, the Pebble Steel is functionally identical to the Pebble Plastic before it. That is to say, it's a relatively simple, stripped-down smartwatch with a less-is-more mentality. The Pebble Steel's main job is to look pretty and show you phone-things on your wrist. The reliability and simplicity of those functions is what makes the Pebble so great. All of the other bells and whistles are just (somewhat lumpy) gravy.
Pebble offers what is pretty much a perfect execution of the smartwatch dream, with only the tiniest of hitches. Your phone buzzes, there's a second or so delay, you look at your wrist and you know what's up. Simple as that. And now, with the Pebble Steel, you don't have to pay the tax of looking like an idiot wearing a calculator watch.
For that, the Pebble Steel performs admirably on both Android and iOS, although Apple owners have a slight ease of use advantage. Unlike iOS 6, which didn't support push notifications for devices like Pebble, iOS 7 plays nice, and the result is totally seamless setup. Pair the device, install any updates, tell it to mirror notifications, and that's it.
It's easier, but it also means that any application that pushes stuff to notification center is also going to show up on your wrist. You can fix that by disabling apps in notification center entirely, but by default the Pebble is basically just a firehose for your phone, and there's no way to relegate stuff just to your phone without turning it off entirely. Still, this is leaps and bounds better than anything you could do with iOS 6.
On Android (where I used my Pebble the most), things are just slightly more granular. You'll need a third party app (like Pebble Notifier) to get notifications for anything beyond the most basic apps. It's a little bit of a hassle, but it offers extra customization too, including the ability to pick and choose exactly which app's notifications you want to come over. In the end, it's pretty much exactly like the Qualcomm Toq. This is a good thing.