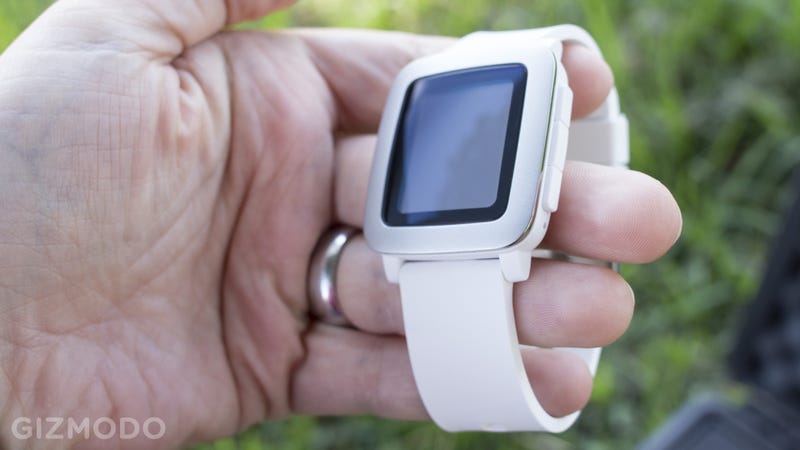 Before the Apple Watch, there was the Pebble—the smartwatch that raised an incredible $10.3 million on Kickstarter. The smartwatch that managed to outsmart Google's Android Wear. The Best Smartwatch according to critics everywhere. For the past six days, I've been wearing its successor: the Pebble Time. It's the most fun I've had with a smartwatch yet.
What Is It?
A wristwatch with a tiny computer inside, plus a tiny 1.25-inch color e-paper screen that delivers notifications from your smartphone, easy access to your calendar, and tiny apps. Works with Android and iOS. Four buttons to scroll and select things. A microphone to send voice replies to texts and emails. Removable lugs so you can attach any standard 22mm band. Sensors so it can act as a basic fitness tracker. Enough waterproofing for a vigorous swim. No limit on the number of apps you can install, unlike the original Pebble.
Why Does It Matter?
Apple and Google are promoting powerful wrist-computers that run cut-down versions of full smartphone apps. Pebble thinks differently. The new Pebble Time doesn't feel much more powerful than a high school graphing calculator. But because of that, it (allegedly) lasts up to a week on a charge instead of just a day or two. And perhaps more importantly, it's dead simple to use.
Why Isn't This a Review?
I haven't spent long enough with the Pebble Time—just five whole days including a lazy Memorial Day weekend—and it's not like you can buy one anyhow. Unless you're one of the 78,000 people who already shelled out during the Kickstarter campaign, which means you're getting one no matter what I tell you. Pebble won't sell it at retail until every Kickstarter preorder has been fulfilled.
Which is probably just as well, because the Time is a pretty limited product right now.
Update 7/2015: The Pebble Time is now available, but our conclusions are pretty much the same. The somewhat dim screen might be a dealbreaker.
Design
Compared to the Apple Watch or the LG Watch Urbane I recently ripped off my wrist, the Pebble Time feels a little bit cheap. It's a plastic smartwatch where others are made of metal—though it does have a sleek stainless steel bezel surrounding a glass window, so it's not like it's made of sub-par materials or anything. In fact, I think the white silicone band is actually pretty fantastic. It's nearly as silky-smooth as the one I loved on the Apple Watch.
And honestly, I like how the Time sits on my wrist, too. It's just thinner than most other smartwatches, and "I forgot I was wearing it" light. It's nice and evenly proportioned compared to some of the wrist-dominating metal bricks that other manufacturers are pushing. My white model doesn't look expensive, but I do think it looks stylish.
What I don't like, unsurprisingly, are the exact same things I didn't like about the original Pebble:
1.) The buttons are painfully stiff
2.) The charging cable has tiny, weak magnets, and doesn't reliably stay connected.
It blows my mind that the biggest issues with the original Pebble are still here, particularly now that the competition has come so far. Every single Android Wear device I've tried has a more secure charger. And there wasn't a moment I didn't miss Apple's amazing scroll wheel.
Oh, and compared to other smartwatches, the 1.25-inch screen on the Pebble feels really, really tiny, with a giant bezel around the border of your view. It can be hard to read tiny text (Pebble says the ability to adjust font size is coming), and not a lot of it fits on screen at a time. The backlight's pretty dim, too. The Pebble Time still uses a transflective screen—meaning it reflects light, making it super readable in bright light—but in darker conditions it can occasionally be hard to make things out. I feel like I'm getting used to the screen, but it could be a dealbreaker for some people. Update 7/2015: Nope, we haven't gotten used to the dim screen.

Using It
Pebble's user interface makes so much sense. Everything happens in two columns: one for your Timeline, and one for apps.
Timeline: from your watchface, you simple press the up and down buttons to move forwards and backwards in time. Go forward, and you'll see your upcoming calendar events, alarms, and reminders, plus morning and evening weather reports. Go back, and there are your missed calls, your previous alarms (when did I wake up this morning?) completed goals and so on. You can go up to two days in either direction.
Press the right (select) button, and you go a layer deeper. Want more info about that weather? Why did that alarm go off? Press the left (back) button, and you go back where you came from. You can even interact with some Timeline items by pressing select again.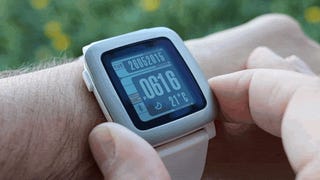 Okay, so that's the Timeline column. To get to the apps column, you just press the right button from the watchface instead of from a calendar event. Then, you get an infinitely scrolling column of all your apps. Hold down the directional buttons to zoom through them. Again, tap the right button to dive deeper, or the left button to surface again.
If this sounds a lot like Google's latest Android Wear interface, or even the Apple Watch, that's because it kind of is. Android Wear even has two columns now: apps on the right, Google Now cards on the left. Each of the major smartwatch UIs separates the ambient, helpful information it pushes automatically... from the apps you have to actually choose to use at any given moment. It's a good idea for all involved.
The wonderful thing about Pebble is that you always know where you'll find what you want. By contrast, Google Now throws cards at you out of the blue, suggesting information it thinks you'll like—sports scores, local check-ins, etc. Swipe them away, and they'll vanish, never to be seen again. Apple hides its information in Glances and inside apps, and it's a chore to navigate through. But with Pebble, those sports scores are right there in your Timeline at the time they arrived. Just scroll up to find them.