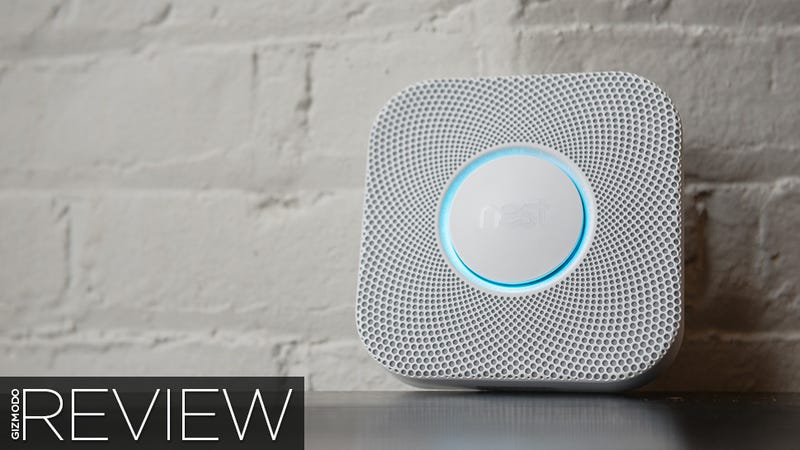 For as important a role as your fire and carbon monoxide detector plays in your life, you don't hear from it very often—and when you do, it's usually either annoying or terrifying. Protect, the new detector from Nest, is decidedly more talkative—a device that not only keeps you safe, but makes you feel safe. That matters more than you might think.
What Is It?
In name, Nest Protect is a smoke and carbon monoxide alarm. It communicates with you through a mixture of verbal warnings, beeps, LED lights, and text alerts, too. But in practice, Nest is more like a starter package for the connected home. It carries a photoelectric smoke sensor, a carbon monoxide sensor, a speaker, and four sensors that detect motion, light, and heat—which means it's smart enough to know when you're in the same room or if you've turned off the lights.
The $130 alarm comes in a wired 120V version and a battery version, and connects to your home's Wi-Fi, communicating through an iOS iPhone, iPad, or Android app.
Why Does It Matter?
Protect is the vanguard of a new generation of products that use increasingly cheap, ubiquitous sensors to collect data about the world around us. It's easy enough to set up—and cheap enough to buy—that it could be the first "smart" home device for millions of consumers, many of whom still see the Internet of Things as a figment of Spike Jonze's imagination, a sexy, disembodied voice talking to Joaquin Phoenix in a LA apartment.
Nest's goal is to redesign home appliances that collect and analyze data about your home—then use it to improve it. It began with the thermostat, and now it's moving onto home safety. On Tuesday, Google acquired Nest for more than three billion dollars—a price that was hard to comprehend for some of us. But the two companies share divergent missions: Google collects information about your online life—but Nest is doing it for your home life.