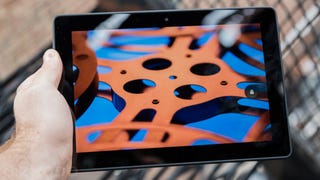 The WSJ is reporting that Amazon has its sights set on an ad-supported streaming media service that would be available outside of its existing streaming offerings on Prime. Think of it as an all on-demand Amazon TV network.
Per the report:
The new service, which could launch in the coming months, likely will feature original series and may include licensed programming, these people said. As part of the project, Amazon has held talks with the creators of "Betas," a series about a Silicon Valley startup that Amazon produced last year for Prime, these people said.
The service would mean that Amazon's original content would be seen by more eyes, beyond the ones that pony up $100 a year for Prime. One thing that's unclear, however, is how the ads would be delivered. The WSJ says content might appear on a special section on Amazon. Or think of the way Hulu does it—you'd possibly see one big long ad before you watch a show, or you'd watch shows like you do on a regular old TV, with ads in between to break things up. The service would also feature free music videos. Say you searched "Beyonce" on Amazon. Then the video for the song "Drunk in Love" would subsequently appear.