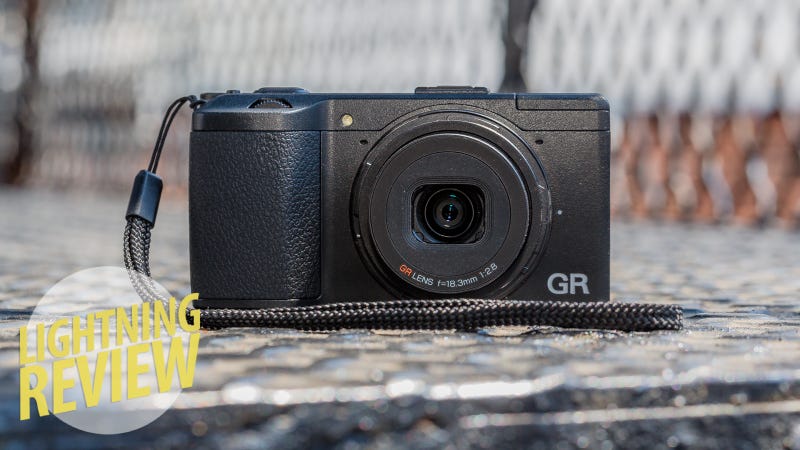 For any aspiring photographer looking for a camera to begin their journey, the Ricoh GR should be one of the first stops. The GR packs mid-size DSLR imaging in a pocketable and lightweight form factor that isn't anything but a pleasure to carry around and shoot with.
What Is It?
A compact, 16 megapixel CMOS APS-C sensor camera (that's the same size sensor as in a Canon 7D) with a fixed 18.3mm (28mm on a 35mm sensor) f/2.8 lens, all for the very reasonable price of $800.00.
Who's It For?
Photography enthusiasts would get the most out of the GR, but the camera is an especially great tool for those looking to get into the trade. Additionally, it's a great second camera for established professionals who don't want to carry around that DSLR all the time.
Design
There's nothing here that will wow you, but at least it doesn't feel like Ricoh compromised on the build quality of the GR. It's got a very comfortable grip and a wonderfully lightweight magnesium alloy body that altogether weighs in at 8.6 ounces. What the GR lacks in looks, it makes up for in its simple controls and sturdy feel.
The controls and power switch placement are all accessible through your index and thumb; which I've always thought was the most intuitive way to build a camera. The lens retracts when not in use and keeps the camera on standby at a slim 1.4 inches.
Using It
The GR does a great job of filling that photographic niche somewhere between my smartphone and my DSLR, both in terms of quality and convenience. In fact, the first thing I noticed was how it takes less than two seconds for the GR to power on, ready to shoot.
In every situation that I wanted to take a picture, it was capable of getting exactly what I wanted. The controls are incredibly accessible and very easy to adjust on the fly in order to capture those easy-to-miss moments that occur all too often.
The GR has a fixed focal length, which is something to be aware of and might be a deal-break for some. I love it here, though. Being limited to only 18.3mm makes you think about framing much more, and about what your relation is physically to the subject. Moreover, it teaches you how to frame a shot without a zoom, which is invaluable knowledge for a starting photographer.
The flash is acceptable and gets the job done without a lot of reach. It's made for a wide lens so if you're looking to do more interesting possibly studio-based work, your best bet is to just use the hot shoe mount.
The detail on the sensor is fantastic. Granted, it's not the 24 megapixel full frame behemoth that the Sony RX1 is, but for not having custom-built Zeiss optics or those extra eight megapixels it sure produces clean, detailed shots. At 100% crop I don't notice any moire and even at high ISO it doesn't get very noisy; The grain manages to stay relatively in sync with the color around it.