Aaaaaand, right or wrong, that's why people pirate.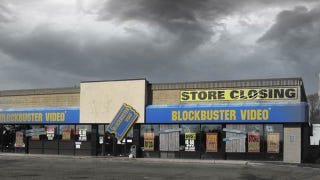 It's a near-guarantee that you haven't been to a Blockbuster this year, or possibly this decade. And after today's announcement that the company is shutting down its 300 remaining stores, you likely never will again. But that doesn't mean that video stores have outlived their usefulness—or, especially, that streaming is anywhere near ready to replace it.
Blockbuster's physical demise will be seen as a cause for Twitter punchlines aplenty, which is fine. But let's take a minute to think about exactly what we're losing. And let's start with Indiana Jones.
A year ago, a good friend sent me the following email in response to a post I had written about paying for content instead of pirating it. In it, he detailed his simple quest to watch Raiders of the Lost Ark. In short? He couldn't:
---