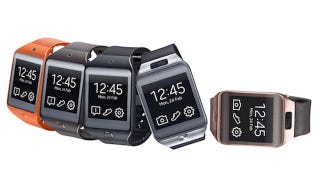 As expected, Samsung has released its follow-up to last fall's Galaxy Gear smartwatch. The biggest change? That it's left Android in favor of a Tizen, an open source operating system that gives Samsung a battery boost and, more importantly, a sense of independence.
There are some internal upgrades here worth talking about as well; the Gear 2 gets a boost to a 1GHz dual-core processor instead of the 800MHz guts it sported before, and will be compatible with "dozens" of Samsung smartphones and tablets from launch instead of the limited selection the original Gear was limited to. It also adds a standalone music player and a heart rate monitor, making it a more capable workout companion than it had been. And a shift in camera placement means you can swap out three band colors—black, brown, and orange—which seems to be the last of the perks. After all, it's barely been five months since the original.
The Gear 2 will also be joined by the Gear 2 Neo, a device that appears to be essentially the same except that it's lighter, has no camera, and offers a grey strap instead of a brown one for some reason. It will also presumably be cheaper, though it's not clear yet by how much. Or, for that matter, how much the Gear 2 will cost; hopefully less than intimidating $300 price tag that burdened its predecessor.
The Gear Neo 2, in orange
All of which is to say that there's probably not much here to draw you to the Gear if you weren't before, which makes sense given how close the sequel comes to the original. If anything, at least on paper the move to Tizen seems to benefit Samsung more than its customers, a notice to Google that it's willing to flirt with other viable hookups. It doesn't need to be a Galaxy to take on the world.
Two Gear 2s, embracing
That said, it'll be interesting to see if Tizen can at the very least make the Gear a bit zippier than its initial iteration had been. Its problems ran deeper than software alone, and it's hard to imagine that if Android apps felt unfinished that their Tizen counterparts will fare much better, but the extra day or two of battery life that Samsung is promising (2-3 days on one charge now), combined with a software experience that doesn't constantly trip over itself, would go a long way. Although given the choice between broad Android compatability and Tizen, well...