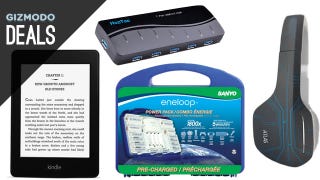 Once you get past a couple of awesome Kindle deals, today's post features a lot of great items that everybody could use in their life. Flash storage, an external charger, spare USB ports, and Eneloop rechargeable batteries are all represented, and that's just the start.
---
If anything in your house takes batteries, you should have a supply of Eneloop rechargeables handy. This 2-pack of AAs will supplement your collection, and even comes with spacers that let you use them in any pesky gadgets that take D batteries.
If you don't have any Eneloops yet, we recommend starting with the Eneloop Power Pack, also in stock and available today for an all-time low $34.
Update: The Power Pack is still available for $34, but it's backordered by a few weeks. Commenter HijoDePuta points out though that you can do pretty well just ordering the components separately. Check out his post for ideas.