Very excited to be bringing Disquiet.com coverage of sound culture under the Gizmodo umbrella.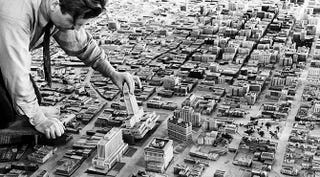 We've added three subdomains to the greater Gizmodo umbrella this week, three awesome blogs that have long been carving out a niche for themselves elsewhere. So here's a hearty welcome to Southland, Abler, and Disquiet.
Southland
Southland comes to Gizmodo as part of an exciting new content partnership with the USC Libraries, specifically the member collections of L.A. as Subject, a vast archive of L.A.-related material, from old maps and images of the city from its earliest days of formation to overlooked or obscure urban planning documents that have to shaped the city we now know and from Hollywood memorabilia to stunning historic photographs of a metropolis rising from the dry valleys of Southern California.
The series is written by Nathan Masters, who will be expanding, rewriting, editing, and re-illustrating many of the posts that previously appeared on KCET. Why Los Angeles? In an awesome introductory post, well worth reading in full, Masters has an answer for you:
---