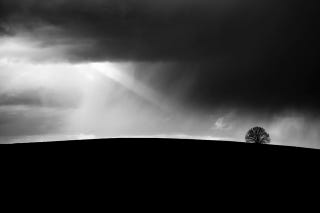 The world's first photograph was murky wash of grays. So as you take black and white photos for this week's Shooting Challenge, don't consider yourself an artsy poseur. Call yourself a historian.
The Challenge
Take a photo in black and white.
The Technique
Color photography is about vibrance. But when you remove all that, you can focus on all of the other important things: Light, shadow, lines, and texture. Black and white photography is like 2-D sculpture, which is why it's still a celebrated format today.
Here's a simple tutorial to get you thinking in black and white. Once you're done with that, read through this one, which offers some metal hacks to tweak your own photographic perspective.
The Example
Our lead image is by Nils, and it was the winner of our black & white Shooting Challenge from 2 years ago! I love that the ground is exposed in perfect black, allowing the viewer to celebrate the grays of the storm above.