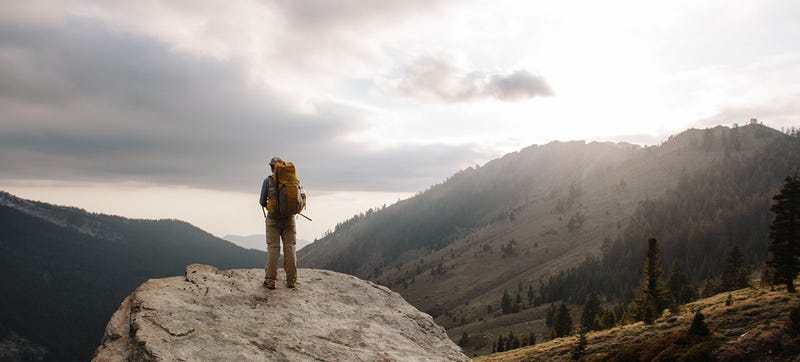 Want to strap on a pair of boots and head for the mountains? Here's what to take with you, what to leave at home and how to find your way there.
Why Go Backpacking? Leaving your vehicle behind will give you access to parts of the world you simply can't see otherwise. Moving at a walking pace through the wilderness also gives you the time to appreciate its beauty and maximizes your chances to encounter more wildlife and less people. You can take your dogs, your kids, your friends and even your fishing pole.
It might seem like hard work walking through mountains with a bunch of weight and, I won't lie, it can be. The trick to making it not suck is to pare what you take with you to a minimum, without sacrificing comfort. Because everyone's needs and abilities are different, we suggest you start with a simple one-night, two-day trip, figure out what works for you and what doesn't and scale from there.
The general rule of thumb with backpack weights is that you shouldn't exceed 30 percent of your bodyweight. For me, that's 55.5lbs, which is an awfully heavy pack. I try to stick to 35 or 40lbs max, which is way easier to carry. You'll be surprised how fast the weight adds up when you start packing. Because you're new to this, we're not going to recommend that you spend a ton of cash to get that weight down. Instead, simplifying your load out is the best way to maximize your comfort and speed on the trail.
For your first trip, 10 miles or so one-way is a good distance for the day. That'll get you far enough from the car that you'll really be somewhere wild, but accounts for difficult terrain and, well, carrying weight on your back for the first time. It's also short enough that, should you find your boots don't work or your pack weighs too much or something else goes wrong, it won't kill you. As you gain experience and grow comfortable, you can extend that daily mileage to 15, 20 or even as far as 30 miles in a day.
What You'll Need: If backpacking is new to you, you'll want to keep costs down. There's a chance you won't like it, won't do it again soon and it just sucks dropping dime on a bunch of stuff you're only going to use across a weekend or two, here and there.