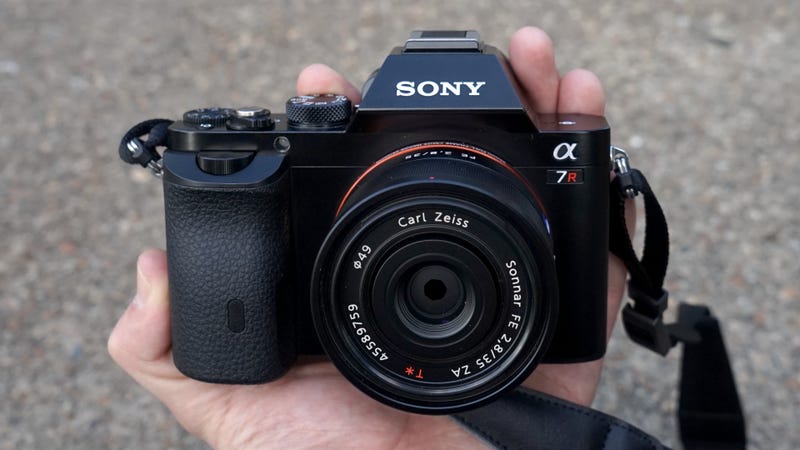 A few weeks ago, Sony wowed photography nerds with something actually new: Two mirrorless, interchangeable-lens cameras with full-frame image sensors, the same big chips used in professional DSLRs. The compact design is a marvel on its own, and after using the cameras for a few days, I can safely say that, yes, these might be the most exciting shooters we've seen all year.
Disclosure: We were so excited to check out Sony's full framers that we let them fly us out and put us up at the company's annual digital imaging hoedown.
Why should I care about "full-frame mirrorless"?
Fair, that's a lot of jargon, but it's easy enough to dissect. Mirrorless cameras—which have been steadily gaining momentum for a few years now—don't have a mirrorbox to reflect light up to a an optical viewfinder the way a DSLR does. Full-frame sensors, meanwhile, get their name because they're exactly the size of a 35mm film frame, and are bigger than the "crop" sensors mirrorless cameras typically sport. In general, a larger sensor equals more surface area for light-absorbing silicon, which in turn equals better image quality.
A bigger chip inside also means bigger camera, and if you want to be able to swap lenses, it means huge DSLR camera. (Leica has a compact, full-frame system as well, but it's an entirely different animal that'll cost you all the gold under your mattress.) Earlier mirrorless cameras shrunk down smaller DSLRs, and now Sony has done it with the biggest of them all.
Until this point, mirrorless cameras and full-frame sensors were mutually exclusive outside of a few very niche, prohibitively expensive corners of the photoworld. Now, they come in the same reasonably priced package. The big question is whether or not it'll work.
---
What's the difference between A7r and A7?
Sony opted to release two different models of the camera simultaneously, and both have identical bodies. The A7 and A7r amount to different visions of what a full-frame mirrorless camera can and should be.
The central differences between the two are price, resolution, and autofocus performance. The more expensive ($2300 body only) A7r has a 36-megapixel image sensor with newly developed architecture that's optimized for fine details. The A7 ($1700 body), has a lower-resolution 24-megapixel sensor but a much more advanced autofocus system. (It has a very similar imager to last year's excellent A99 pseudo-DSLR. The cameras use the same E-Mount as Sony's line of crop-sensor NEX cameras. The opening for the E-Mount is just barely big enough for a full-frame sensor. Should we chalk that coincidence up to clever planning or just dumb luck?