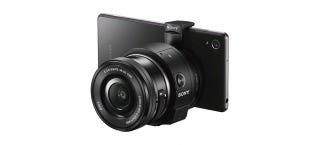 The Sony QX1 lens-style camera follows from the smartphone-friendly concept the company introduced last year with the QX10 and QX100. This time, the camera comes with a larger image sensor and an interchangeable lens mount, both inherited from Sony's awesome mirrorless shooters. Interchangeable lenses on a smartphone is just as crazy as it sounds.
As with the older models, you're expected to attach the QX1 to your phone with the included clamp mount. The camera pairs with your phone with a direct Wi-Fi connection, and using Sony's PlayMemories app, you can see what that camera's actually looking at.
The difference is that while the QX10 and QX100 used the sensors and lenses from existing point-and-shoot compacts like the RX100 II, the QX1 has a 20.1 megapixel APS-C format sensor and an E-mount that makes the camera compatible with all of the same lenses as Sony's interchangeable-lens cameras. Weird! Cameras that aren't in your phone are a dying breed, so the logic seems to be that all of Sony's excellent imaging tech needs to be built into a package that works with your phone—even if that imaging tech borders on professional quality.
In addition to the QX1, Sony is introducing a long-zoom model, the QX30, which has a 30x optical zoom. It'll sell for $350.
The QX1 will cost $400 alone when it's available in November. You'll still need to buy a lens to add on, but there's no word on a bundle in the United States. Figure something like $300 extra if you tack on the company's standard kit lens, a 16-50mm f/3.5-5.6. And you'll be buying several lenses, of course, because that's the point of having an interchangeable-lens camera
Last year's QX10 and QX100 cameras introduced very odd but ultimately intriguing concept. And they were successful to a certain extent but you have to wonder how far Sony can push this concept.