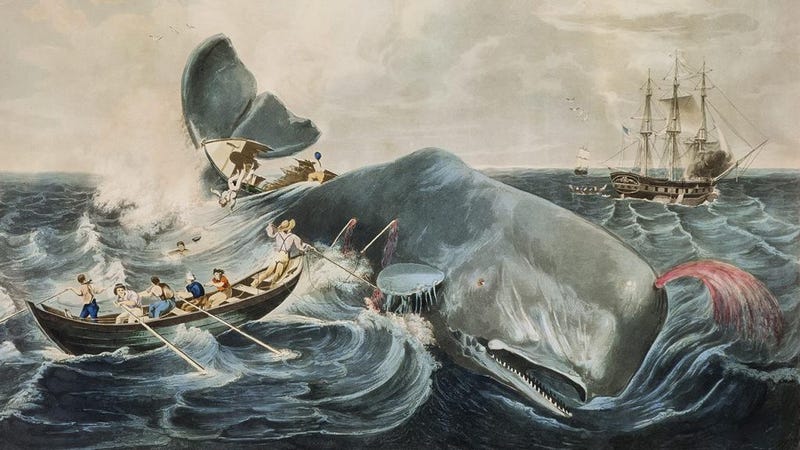 In 1820, a sperm whale attacked and sank the Essex, a whaling ship from Massachusetts. The incident inspired Herman Melville to write Moby Dick, and marine biologists have been wondering ever since if the whales actually engage in ramming behavior. A fascinating new study suggests this may be the case.
Sperm whales have the most unique foreheads in the animal kingdom. It consists of two large oil-filled sacs known as the spermaceti and the junk (yes, really). These sacs are stacked on top the other, extending for one-third of the total length of the whale and accounting for more than a quarter of its mass. A new study published in PeerJ demonstrates that this structure is tough enough to be used by males in ramming combat.
The so-called "ramming hypothesis" has been around since the 19th century, but very little data, exists to support it (aside from some anecdotal accounts). The basic idea is that male sperm whales engage in combat to gain access to females. There may be some truth to this; only the males boast the prominent forehead.

Aside from the dearth of empirical evidence, a central problem with the theory is that the spermaceti performs a number of valuable functions. It contains sensitive anatomical structures required for echolocation, acoustic sexual selection (the famous whale song of the sperm whales), acoustic prey debilitation, and buoyancy control. These structures could be seriously damaged during ramming events, calling the hypothesis into question.