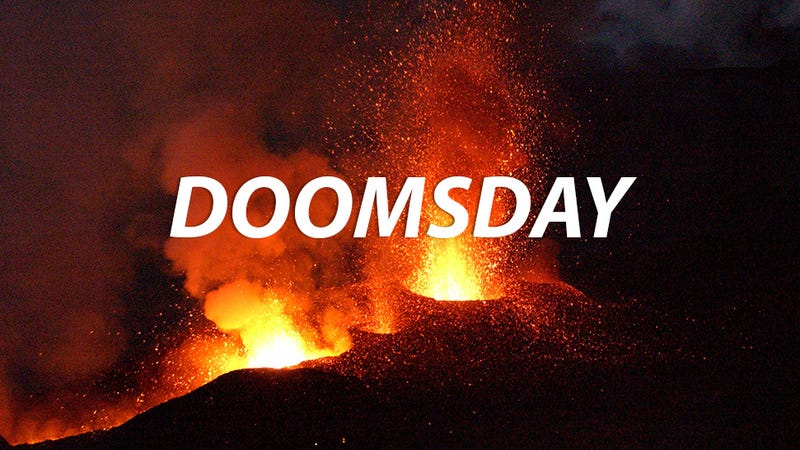 Do you have a cute and cuddly stuffed animal near you? If not, you might want to find one because what you're about to read will scare you silly. And not the good kind of silly either. We're talking The-End-Is-Coming sort of silly.
Two studies published in Nature Geosciences describe new findings on supervolcanoes, the most destructive natural event imaginable short of a catastrophic meteor impact. The biggest discovery is that these volcanoes can erupt spontaneously, without a trigger. Previously, it was thought that an outside force, like an earthquake, is what causes supervolcanoes to spew thousands of cubic kilometers of ash and lava into the atmosphere, potentially ushering in years of nuclear winter-like conditions. By comparison, Mount St. Helens only blasted one cubic kilometer of ash and lava into the air. A supervolcano eruption could cause the global temperature to drop by ten degrees for an entire decade.
Some 200,000 years ago, a supervolcano erupted at Yellowstone. Image: Shutterstock/Nina B.
So supervolcanoes are scary. Luckily, there are only a handful of these in the world, and eruptions only happen once over many thousands of years. Unluckily, the last eruption was 12,900 years ago. So we're due for a big one—and since eruptions can occur with zero warning, it's hard to say when and where the next one will occur. But, as Smithsonian Mag points out, the studies also found that supervolcanoes are even more rare than we thought. Rather than exploding when a magma chamber's internal pressure climbs too high, as normal volcanos do, supervolcanoes explode for a different reason: