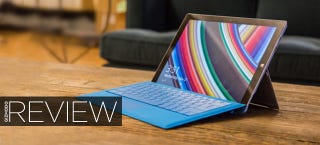 Microsoft's Surface Pro has sized up, embracing its laptop side in an attempt to unseat the MacBook Air as your computer of choice. The Surface Pro 3 won't succeed, but it's a damn good effort.
What Is It?
Microsoft's third swing at reinventing the laptop and the tablet at the same time. A Intel-powered full-Windows slate with a detachable keyboard. A super skinny ultrabook. A ginormous—but surprisingly holdable—tablet.
Why Does It Matter?
The Surface Pro dream has been a long time in the making. With two decent predecessors that weren't terrible but definitely failed to set the world on fire, the Surface Pro dream—a single device that does all your computer-ing—looked shakier than ever. But now, with a brand new look and feel that positions it to go toe-to-toe with the MacBook Air instead of the unstoppable iPad, the Surface Pro 3 is Microsoft's best (and maybe last) chance to prove that this whole thing is a good idea after all.