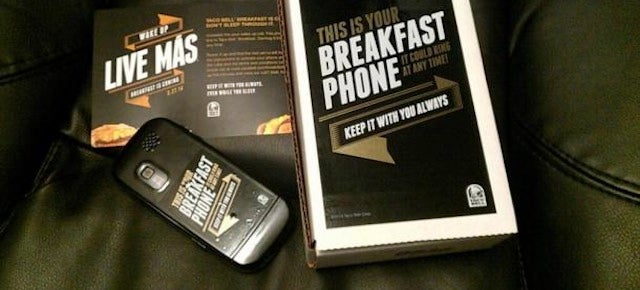 Recently, Taco Bell sent out 1,000 free phones to "social influencers" to promote its unholy bastardization of what it means to be a breakfast taco. Unfortunately for one unwitting participant, his gift also came attached to bill collectors, court orders, and one charge of truancy.
As part of the stunt, the burner phones came with instructions to keep the phone on their person at all times. For the majority of recipients, the phone buzzed a few times with breakfast-related missions and that's it. Adam Chandler's however, was special. Chandler explains in Slate:
Moments after I hysterically tweeted, Instagrammed, and Facebooked the pictures of my new status signifier, the phone buzzed to life. It was a call from an 800 number. The moment, my moment, had arrived:

"This is Greg, and I'm giving you a call from Capital One. We have a lot of options that have recently become available to you and wanted to discuss them with you. Please give us a call at ..."

When I hung up, my breakfast phone chirped again. I had six voice mails waiting for me. Had I already been derelict in my duties? I hadn't. But someone else had:

"Hello, this is the Marie Curie High School, calling to inform you that your child [name withheld] was marked absent from school today. Please send a signed note with your child when he returns to school to verify this absence. Please keep in mind that your child is required by the chancellor of New York City to have 90 percent attendance for promotion, so please send your child to school every day."
Chandler still received his Waffle Taco-related texts, sure. But they were severely outnumbered by calls from ConEd collectors, questions about rogue high schoolers, and even a request for an appearance at Bronx Criminal Court.
According to Chandler, it was all worth it for the breakfast-loaded waffle at the end of the tunnel, but head on over to Slate to read his full account of the ordeal. And remember, there's no such thing as a free breakfast taco. [Slate]