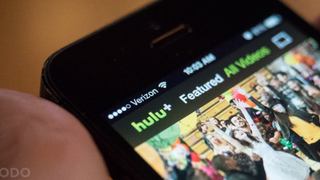 Over the weekend, The Wall Street Journal reported that Hulu was close to signing deal that would include live streaming rights to Disney Channel, ESPN, FX, ABC, and Fox News. Today, CEO Mike Hopkins announced that Hulu will be bringing "live programming from broadcast and cable brands" in 2017.
"Two Day of the Condor" is one of the strongest episodes of Silicon Valley yet, turning California labor law and server stability into compelling television. It didn't have the equivalent of last year's perfect dick joke, but it had something better: Dramatic tension, and sweet lady justice.
The internet is a constant popularity contest, and everyone is trying to collect followers, friends, shares, likes, hearts, views, +1s etc. You know the soul crushing drill. But YouTube wants to change the conversation. They've lowered the bar so you only need 100 or more subscribers to be able to live stream.
Like the wearable headset from last year, the Looxcie 2 streams video-clips over Bluetooth, controllable by an Android or iOS app. You can now share videos with iCloud though, as well as YouTube, Facebook and Twitter.
Make this a lesson in how to drum up some much-needed interest in a should-be-obsolete phone: ensure your Chinese live-stream announcement gets hacked with a snippet of porn. Works a charm! UPDATED
If the Canon EOS 5D Mark II was good enough to film the entire season finale of House on, there it should be more than adequate to use as a Skype webcam. But how?
Hava, the lesser-known video streaming system, is going to be doing some crazy social TV sharing called Sociable TV.
Good news for HTC phone owners,
Qik
is bringing its popular video streaming service to the , and the TyTn-II. They are also adding two other Windows Mobile phones to the list: The AT&T Tilt, and the Sony Ericsson Xperia X1. All you need to do is set up a free account on the Qik website and you will be streaming video…