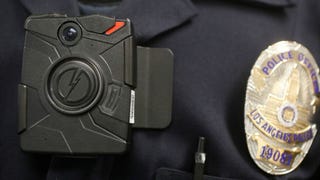 Los Angeles Mayor Eric Garcetti and Police Chief Charlie Beck announced that LAPD officers will officially begin wearing on-body cameras that will record their interactions with civilians.
College Humor is running a parody of Steve in Keynote mode, we know it isn't the first or won't be the last, but it has some of the Steve's actions, crowd reactions and the overall atmosphere pretty much down to perfection. On top of all that, it does a good job at making us laugh—just look at the damn product…
Goodbye Letter I—We discuss the reasons why the letter "i" must leave the tech world, and what letter should replace it.
Some companies kinda want to get sued. Amex Digital must be fully lawyer-loaded with the IT-N501 i Talk Nano. It's a fairly sexy Skype phone that comes in iWhite or iBlack, includes an LCD display, features speakerphone and caller ID, and will still only run you $25.