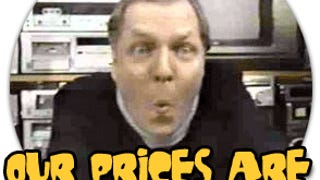 Making use of a 103-inch Panasonic Plasma and a multitouch-capable overlay from U-Touch, British software developers UI Centric put together this awesome-looking table hockey demo that puts all other 103-inch, touch-based table games to shame.
The big piece, out of 30+ devices, in our show is supposed to be a 103-inch Plasma from Panasonic, which we weren't sure would fit in the door. We found out it DOES fit, only a few days ago, but lo, we also found out that we are in deep doo doo when it comes to powering this 1500 watt monster. To even turn it on,…
The good news: Panasonic announced their newest 103-inch plasma, which will have updated features such as 10000:1 contrast ratio, 4 HDMI ports, Deep Color and x.v.Color support, not to mention a $20,000 price drop. : it'll still cost you around $50,000. In addition to the aforementioned features, the most incredible…
Hitachi has announced a 103-inch plasma. As we've heard, there's only one place to get screens this big: Panasonic, mother of the original giant. Is Panny in full swing selling them to companies like Samsung and now Hitach'? And if Panny is selling, maybe, maybe, it means that they're ready to update their own 1080p.…
Click to viewYou don't unbox a 103-inch plasma, you uncrate it. Today, during our sortie to Secaucus, I got a chance to wander deep into the caverns of Panasonic HQ to the highly secure Big Service locker, see where they stash the 103-inch TVs. I got to check out one from the back—a rare treat, since when they are on…

A forklift accident, rather than a publicity stunt by Sharp or some other big-n-flat competitor, was the cause of death for Panasonic's 103-inch plasma pride and joy. The rumor floated a few weeks ago, but the Gizmodo team in Australia was able to confirm the CeBit Sydney mishap. Not, it wasn't the first plasma to…
We're not sure how they got their hands on it, but the guys at Trusted Reviews were lucky enough to test out Panasonic's 103-inch plasma TV. The monster TV, which weighs in at 771 pounds with the massive stand, took about 3 hours to install (and that's with the help of professional installers). So how'd it perform?…
Here's that amazing Panasonic booth, that we found under cover on Friday, 3 days before the show opened. It's like we said: Eight of those amazing, but now second best 103-inch plasmas, dancing on display, each with their own 1080 stream and hydraulic pivoting mounts.
Like you, I'm obsessed with big HDTVs. I'm gonna put on a safari hat and hunt em down like big cats. Before the new sets are uncaged, lets take a poll: How big will the HDTVs be this year?
While strolling through the pre-birth of the CES machine, we happened upon the most amazing thing ever: No less than eight of Panasonic's 103-inch Plasma HDTVs set on a stage, with independent, but synced 1080p content on each. And they were on pivoting mounts, that rotated to the content of an attractive couple…
Panasonic Broadcast announced it's now shipping its 65-inch TH-65PF9UK 1080P plasma display aimed at the professional market, and also tipped us off that it will be shipping its gigantic 103-inch plasma display, which it calls the world's largest, by the end of this month. It's also rolling out a more…
Geeks, we lost. It reminds me of wedgies and having lunchroom meatloaf dumped on my head, but the first two Panasonic 103-inch plasmas were just sold to NBC for use on the set of Football Night in America. No, the first thing to run on these TVs won't be Xbox. The set, with a fully HD, 1920 by 1080 resolution screen,…
Oh the rich, they're so funny! It's not often we get to link to a Gawker.com Source, but Page Six reports that Mark Cuban, founder of HDNet, and this little sports team called the "Mavericks", wants to be the first to own a 103-inch Panasonic Plasma. He doesn't care that he might have to knock down a bedroom wall in…