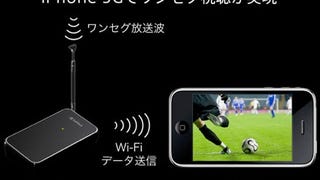 Softbank's just stumped-up with this interesting mobile TV add-on for Japanese iPhone users: it's a separate unit with tuner and aerial that retransmits the signal over Wi-fi to the phone. The rechargeable device will give about three hours of TV oggling, and connects to a special iPhone app that'll be distributed…
The new Toshiba's Gigabeat V81 portable digital TV has a 320 x 240-pixel 3.5-inch screen, fitting 40 hours of recorded TV into its internal 8GB memory, which is double the previous version, expandable with an SD card. They claim 10 hours of broadcast viewing, and 13 hours of playback video viewing with WMA, WMV and…
Sony's latest, smallest member of the Bravia LCD TV family is, sadly for fans of multicolored rabbits, destined only for Japan. Shame, as the XDV-D500 sounds good. Find out just how good under the gallery.
Reason #1092 why Japan is way cooler than us: with the new PSP 3.80 update, Sony is offering DVR to every PSP that uses their optional 1seg (wireless digital video) tuner—think of as a completely wireless Archos. And the best part? While the PSP doesn't have the horsepower to record shows while you play games or surf…
Nintendo first mentioned this 1seg tuner for the Nintendo DS well over a year ago. Since then, we'd pretty much forgotten that it existed/lost any hope that it would ever actually be released. But Nintendo just announced that they will be launching the product on November 20th in Japan. The sweetness of wireless…
In an announcement that teases the US for our lack of our 1seg terrestrial digital broadcast, Japanese buyers of the new PSP will be able to receive DVB on their PSP. The PSP-S310 is a digital television receiver add-on for the new PSP that will run $58 and snap on the top of the unit much like their portable EyeToy.…
Toshiba was showing off a video player at CEATEC in Japan that's a hybrid DVD and personal media player (PMP), and it also supports the DivX video codec and 1seg digital TV.