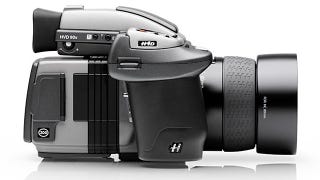 Hasselblad one-upped itself again with the H4D-200MS camera, a 200 megapixel monster that hit the market with a whopping $45,000 price tag.
It appears that retailers have leaked Garmin's upcoming GPS line. Amazon had listed relatively blank pages of the new 200, 300, 400c, 400i and 400t while Buy.com got even more specific with complete details on the Garmin Oregon 200 ($450) and Garmin Oregon 400C ($600). Apparently the Oregon is very similar to Garmin's…
I wouldn't—well, I would just once, like to see what it's like to dive with The Hives singing along while I fin down to a reef —because I like to live out my Darth Vader fantasies, but this MP3 player could just persuade me otherwise. What is remarkable about this iRiver iFP-380T, with its waterproof case and headset,…
During the OLPC price hike from $175 to $188, a spokesman said they were committed to keeping the price below $190, and probably below $200 if possible. This was in September—a month and a half ago. Guess they weren't trying very hard, since the laptops have just made the jump to $200. Besides being symbolic for being…
Click to viewIs this it? The HD DVD stake into Blu-ray's heart that will signal a start to the resolution of these next-gen DVD format wars? We tracked down a price on the upcoming Venturer HD DVD player and discovered it to be $199, the magical price that everyone's been waiting for.