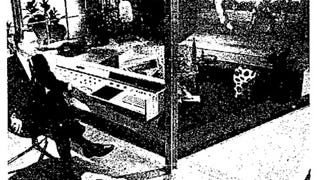 While visiting New York a few years ago I stopped in at the Paley Center for Media (formerly the Museum of Television and Radio). They have quite an extensive collection of TV programs that anyone can view, two at a time, for an admission fee. One of the shows I watched was an episode of the CBS show, The 21st Century
Many people in the 20th century assumed that the average citizen of the 21st century would be taller. However, a smaller (and for our purposes admittedly more entertaining) contingent assumed that advances in chemistry would breed hilariously super-sized babies. Having tipped the scales at ten pounds and ten ounces…

A few months back we looked at a clip from the February 26, 1967 episode of CBS's 21st Century. The episode includes an interview with James Bonner, who advocated for human eugenics in the future.
Today, we have a clip of the retort by Harrison Brown, who raises questions about whether eugenics is as "common sense" as…
The CBS series 21st Century aired a program titled, "The Mystery of Life" on February 26, 1967. The program looked at genetics and the future of humanity.
In this clip, host Walter Cronkite interviews biologist James Bonner. Bonner advocates a "large-scale program of [breeding] better people," otherwise known as…
The 1979 book Future Cities: Homes and Living into the 21st Century goes into some detail about how the "risto" may be used in a variety of applications. Aside from instantly voting via your watch the device apparently has crime-fighting capabilities.

Crime in cities could get a knock from the risto. Police would all…

The Seattle World's Fair of 1962 brought us Seattle's most iconic structure, the Space Needle. Also known as the Century 21 Exposition there is much to examine for those interested in the paleo-future. The image above is the cover to the Official Souvenir Program. We'll be taking a peak inside over the next few weeks.…
Futurism books and documentaries of the 1970s were adament that attitudes towards sex and sexuality would change drastically by the year 2000.
What I call civilized adultery will exist a great deal more in the 21st century. People will agree with each other, husbands and wives, to have adulterous affairs from time to…

While the most common rhetorical question of paleo-futurism seems to be, "Where's my flying car?" I am personally frustrated with the absence of a much more fun, futuristic innovation. The hoverboard.
In 1989, Back to the Future: Part II gave us a glimpse of 2015 and the next generation of personal, recreational…
As promised, here is page 12 of the amazing 1979 book Future Cities: Homes and Living into the 21st Century.
My favorite aspect of this page is that not only are they speculating the coming of the radio-telephone wristwatch, they're speculating its nickname. The "risto" may not be a common sight today but I really…
Examining the cover to the 1979 book Future Cities: Homes and Living into the 21st Century you can instantly feel its paleo-futuristic glow. With colonies in space, solar heated houses, amazing sports, (which obviously take place in freefall), and wristwatch TV it's almost too much for just one blog to handle, but we…