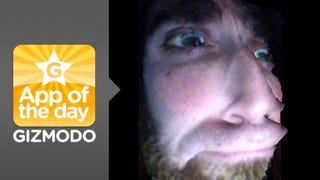 3D? Terribly lame when it's tossed into devices as a bullet point feature. Making stuff in 3D yourself? Almost always cooler than you think. Trimensional for iPhone takes a picture of your face and maps your mug in a 3D model. You wouldn't think it but it's kinda creepy seeing your face in 3D.
What is it?
…
So, my first thought after shooting Fuji's W3 3D camera was how it would usher in a new era of athlete dong shots. But, the W3's not quite ready for the world—or maybe it's the other way around.
Fujifilm's first splash into pocketable 3D picture making, the W1, was beset by complicated controls and general first-generation awkwardness. With its successor, the W3, Fujifilm has lessened but not eliminated the headache both of making and viewing your 3D content.
A year after Fujifilm introduced the first 3D camera to us, they've fine-tuned their encore act, the W3—which shoots 3D video in 720p resolution, taking it from VGA to HD.
Sony and FIFA have teamed up to bring next year's second-biggest sporting event in 3D exclusively to those who truly appreciate the beautiful game. Read: not Americans.
Why use two lenses when one is better? Sony's announced that they're developing a single lens 3D camera with a frame rate of 240fps and none (ok, ok: less) of those freaky misalignments 3D cameras can have.
Remember the dual-lense Novo Minoru webcam that lets you record in 3D? Remember how we said you can use it for 3D videosex? Someone did.
Click to view
Engineers at Carnegie Mellon University have paired a 3D laser camera system, capable of mapping out terrain and obstacles in real time, with an unmanned Yamaha helicopter, creating an autonomous, incredibly low-flying UAV. Once loaded with preexisting topographical data, the sighted UAV is able to hug…
DLP recently teamed up with former LucasFilms effects studios
Kerner Optical
and to work on a stereoscopic 3D Trailer for their cinema projectors. Pushing this style of filmmaking (kinda like the 3D attractions at theme parks) forward was something they were all excited about, and they took me around Kerner Optical's…
Bioscrypt's new 3D cam sounds like something from the future. Capable of detecting and reading your face, it's the first 3D face recognition camera, relying on 40,000 different ID points (like your forehead, eye sockets and nose) to ID you and log you onto your computer.