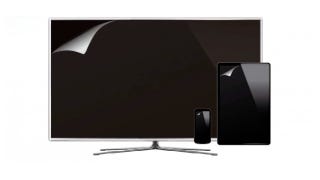 Take a sheet of Pic3D film, apply it to any LCD and it promises that it will properly display 3D video (displayed in the side-by-side format) without special glasses, thanks to lenticular lens technology.
The gCubik display cube, which simulates a fully rotatable, multi-viewable 3D object within its walls, has evolved quite a bit since we last saw it: its six sides, up from three, now respond to touch.
The creators of iPoint 3D claim their technology lets you walk up to a 3D display, and without having to wear any special eyewear, interact with the screen just by gesturing in the air.
You knew it was coming didn't you? 3D LCD displays for your mobile phone? All without those nasty plastic glasses. Though Casio showed its HAST (Hyper Amorphous TFT Display) displays in 2004, this year's CTIA brought 2.4-in and 2.9-in displays. But don't expect to enjoy this new technology in commercial products…