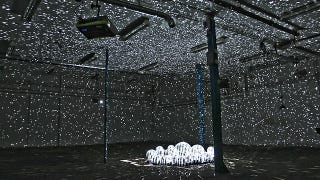 Putting 50 mirrored balls in a semi-lighted room seems like a terrible idea. Actually it seems like a great idea for a rave and a bad idea for an art installation. But it worked out pretty well at the CLICK Festival in Denmark.
This could be the most important design advancement in years. Not since the Pantone color-capturer have you been able to preserve something from your travels and recreate it at home as a 3D model. Hook up a 3D printer, and...
3D? Terribly lame when it's tossed into devices as a bullet point feature. Making stuff in 3D yourself? Almost always cooler than you think. Trimensional for iPhone takes a picture of your face and maps your mug in a 3D model. You wouldn't think it but it's kinda creepy seeing your face in 3D.
What is it?
…
A UC Berkley team has built a giant room-scanning backpack, brimming with lasers and cameras, that can map an interior and generate a 3D model. The potential utility for services like Google Maps is huge, but also, laser backpack.
Robots robots robots... from sexy ones to fighting ones, we love them here at Giz. But this amazing project by Matt Denton over at Robosavvy has me in two minds. It's a modified DIY hexapod robot with a motorised Dremel-tool nose, and Matt's written some code that lets the robot move the cutting tool with precision,…