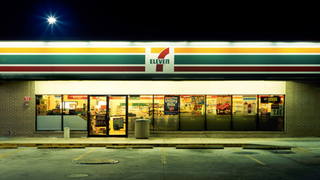 Convenience stores are many things to many people: a Slurpee-filled oasis on a long road trip; a late-night hang-out for thirsty teens hoping to bum some beers in the parking lot; somewhere to grab some Cheetos, because Cheetos. But no matter where you are, after hours the artificial glow of these things is like an…
Kudos to 7-11 for attempting to provide healthier food options at its convenience stores. The latest down home treat: mashed potatoes extruded from what looks like a modified Slurpee machine.
America! The land of excess. Our crusts are cheese-filled, our cheese and bacon sandwiched between not bread but two thick-cut slabs of fried chicken. Whatever it is, we must always have more.
With the release of Star Trek, last week's X-Men Origins: Wolverine is already old news. In this ever-changing fast-moving movie landscape, where can you turn for some appreciation of the now? Apparently not 7-Eleven.
Forget the iPhone, the real news today is that 7-11 is giving away free Slurpees today, 7/11/2008. They do it every year, yet somehow people don't know about it. So we're letting you, the blog-reading public, in on the deal. Go now, they always run out after the work day. [Free Slurpees!]
Apple has stooped to the lowest of lows by targeting the Big Gulp drinking demographic. They have begun selling iPods at 7/11's. For those unfamiliar, 7/11 is a chain small-grocery/gas station in North America and Asia. They are most famous for their Big Gulp drinks and the classic crappy gas-station stereotype.…