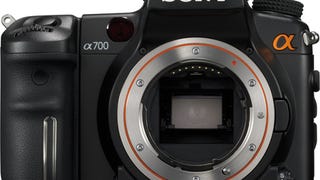 DxO Labs does something quite tricky: Quantifies the quality of an image sensor's performance, so you can look at a neat number grade for a quick gauge. Surprisingly, a Sony DSLR bests equivalent Canon models.
If you own a Sony
A700
DSLR, make sure to download the latest firmware update (version 4). It includes a lot of promising fixes, like the option to turn off noise reduction, less noise at high ISOs, improved white balance and dynamic range optimization and better communication between the camera body and vertical…
After so many rumors, Sony's Alpha DSLR has finally made its appearance. It's got Sony's Super SteadyShot in-body image stabilization, compatibility with Minolta Maxxum mount lenses, HDMI output, 12.2-megapixel CMOS sensor (with analog-to-digital signal conversaion and dual noise reduction), continuous shooting in JPG…
Just released in the Korean market, the Canon A700 has 6 megapixels and 6x optical zoom, quite high for a "compact" camera. A 2.5" LCD and various other shooting modes which makes it a good point and shoot cam.

Canon announced additions to its A series of digital cameras, rolling out a total of four A-series cameras in anticipation of the PMA event next week.

Heading up the list is the Canon PowerShot A700 (above), which has a newly designed 6-megapixel image sensor. It has a 6x 35-210 mm optical zoom lens, and has a…