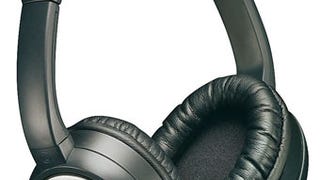 While the Acoustic Research AWD510 wireless headphones weren't our favorites during our headphone Battlemodo, the company promises a Wi-Fi enabled version in 2009 supporting internet radio. Include iTunes compatibility and we may have a deal.
Problem: you want to watch a movie or play a game in glorious surround sound. But someone in your house is sleeping, studying or just annoyed that you are playing BioShock for the third time to get all the achievements. The solution: wireless surround-sound headphones. We tested the three of the most popular models to…
If there's one device that needs some features raped into it, its the remote control. Acoustic Research showed the ARRU449 universal remote at CEDIA today in all its Wi-Fi goodness. Available in October, the gadget's built-in Wi-Fi technology allows you to use your connection to get the latest weather reports, sports…
Audiovox isn't so much an innovator as a "value" company, making (or at least branding) products that are fairly cheap in price but hopefully hold together. You probably know Jensen is an Audiovox brand; you may not know that Acoustic Research (along with certain RCA products) were added to the Audiovox lineup not…
I'm usually skeptical about wireless speakers, but Acoustic Research claims their new 5.1 system is the first "high performance" wireless speaker package. So what does the WHT6024 have that others don't? AR says the system (which works over 2.4GHz frequency) continuously searches for and eliminates interference from…
Most of us like to flaunt our techno-gear, letting it sit right out there in the open for all to see and covet. But if you're looking for more subtle approach than covering your speakers with cheesy paintings, Acoustic Research Home Decor gives you the HD510, a home theater speaker system that can be camouflaged in a…
This is not just any iPod dock: the Acoustic Research blackVault AR4131 gets its audio mojo from an old-timey tube visibly poking up through the inside of that subwoofer, giving it that warm sound of yesteryear that many of us miss.
Here's a shot of the Acoustic Research Wi-Q Wi-Fi enabled home theater remote that we spoke of just moments ago. It's a little on the pricey side compared to gear from other companies (like Logitech), but it functions not only as a universal remote—with over-the-web programming without the need for a PC we think—but…