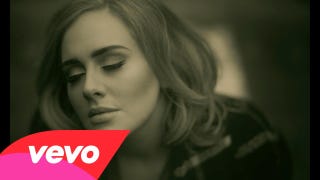 Adele's remake of Lionel Richie's classic ballad has hit a milestone that has not been achieved by any other song in history. According to Nielsen Music, the singer sold one million downloads of the song in just seven days.
Daniel Kleinman is back and making beautiful Bond intros again! Kleinman, who made almost every Bond title sequence for years (about six films total) was cruelly passed over on Quantum of Solace. But he's returned to make beautiful title art for Skyfall. Don't get us wrong, we love MK12's QOS intro, but it was a…
Hong Yi, the lovely artist who makes mind blowing art from everyday objects like books, coffee and basketballs, is back at it again. This time? She paints a picture of Adele using burning candles. Seriously. Who needs a paintbrush when you have hot wax, right?
This week: Check out the first real trailer for cops and robbers zombie tale, The Horde, see what foul beast is troubling Dean Cain and meet the amazing "Lady Indiana Jones," who not only looks amazing, but works with dragons.
Director Luc Besson's company EuropaCorp announced today that they have acquired the rights to Aventures Extraordinaires d'Adele Blanc-Sec, a French graphic novel series that's been published since 1976. Adele Blanc-Sec, a popular novelist turned journalist, investigates mysterious happenings as a sort of one-woman …