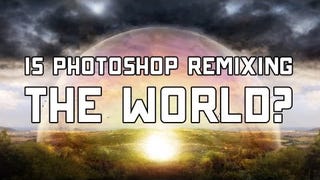 Can you imagine a world where Photoshop doesn't exist? A world where we can take every picture at face value and believe that there was no airbrushing, no retouching, no nothing? I can't. Photoshop has made it impossible for me to not question what I'm seeing and at the same twisted time has also redefined my image…
The Photoshop Rap Tutorial is back in all its remarkably educational glory. In fact, if anything it's less funny than the first but more instructive, and I'm pretty sure I'm happier that way:
49 notes seems pretty pricey to me, but then it's a lot more palatable than coughing up $650 for the full-flavor package. It could be handy if you had a month's work ahead of you, or always want the latest version. Adobe Subscription Editions has just launched now, for all your favorite pieces of software including…
When Emilio Gomariz noticed that Mac OS X remembers the positions of files and windows when you minimize them, he didn't just nod his head and get back to stirring in his low-fat creamer. Nope! He instead created 114 Photoshop files, placed them in exacting position, then minimized them on the dock. And when he…
There's another Photoshop preview vid out today, this time for a feature called Puppet Warp. And if you thought Content-Aware Fill was amazing, wait until you see how Puppet Warp lets you bend and twist images.
It's the 20 year anniversary of Adobe Photoshop and we're feeling nostalgic about images that have made us laugh and cry. We're also curious about what your favorite (and work safe!) photoshopped images are.
Photoshop! On Android! Adobe's free Photoshop app for Android is surprisingly just as slick as the iPhone's though it's missing all of the special effects, focusing on basics like saturation, exposure and cropping.
Is Photoshop CS4 coming earlier than predicted? A screengrab of NAPP Newswire shows that something is about to hit on Sept. 23... and that it's something to do with Adobe's Creative Suite 4. How disappointing would it be if whatever it is that's supposed to be "brilliant" turned out to be like... an ad? [-Thanks…
Adobe's Photoshop Express, its free, online version of Photoshop is live right now. Targeted at everyday consumers, it's Photoshop stripped down to a pretty slick Flash 9-powered web app we got a demo of earlier today. It's super easy to crop, adjust saturation or exposure, or perform several other simple, but solid…